What is Albertsons Innovation Launchpad?
Albertsons Innovation LaunchPad is an event held in conjunction with Natural Products EXPO West that will bring 50 brands forward to compete for cash prizes, industry services, and recognition. The event will provide visibility for these innovative brands across the Albertsons organization. Judges are representatives from Business Ventures, the National Merchandising Team, Specialty Divisions, and KeHE. Importantly, Albertsons stores and our shoppers win by gaining early access to great new products.
Why is Albertsons having an Innovation Launchpad event?
We believe that supporting the Natural Products community of innovative products is good for our shoppers and stores. We hope to see the best of the best at this event. We designed this event to connect various parts of our organization directly to these brands. This may enable great new products to make it into our Specialty Divisions (Haggen, Pavilions, Market Street, Kings, and Balducci's) and, ultimately, all of our banners more quickly. If feasible, we may pursue strategic partnerships with a select few.
How does the Albertsons Innovation Launchpad submission process work?
Albertsons is using RangeMe for the online application process and to review product submissions for Innovation Launchpad, Albertsons' inaugural Innovation Launchpad pitch event at Natural Products EXPO West.
Please submit a maximum of ONE product that best represents your brand.
If your submission is selected on RangeMe, you will be notified by February 13, 2023, and invited to present your products to Albertsons Innovation Launchpad Judging team on March 8, 2023. Submitting is a commitment to attend Albertsons Innovation Launchpad competition if selected.
Do I have to exhibit at Natural Products EXPO West to qualify for this event?
Yes. To qualify, the brand must either exhibit or attend the show, and a badge must be shown at the entrance. Albertsons will not be providing show badges to suppliers that are invited to the event.
What type of products is Albertsons LaunchPad reviewing for this competition?
LaunchPad is looking for products positioned toward these consumer trends: low sugar/low carb/all-natural, plant-based, functional beverages, global flavors, healthy prepared meals, and premium pet.
What types of products are restricted from the Albertsons LaunchPad competition?
Products from Produce, Meat, Deli, Liquor, GM/HBC, or CBD will not be considered.
What size of business do you need to be to qualify to compete in the Innovation LaunchPad?
A brand needs to have sold $5,000,000 in trailing 52 weeks as measured by either SPINS, IRI or Nielsen.
Please describe the logistics of the Innovation Launchpad event.
This event is a fast-paced competition. It will be held at the Anaheim Hilton on Wednesday, March 8th, from 8:30 – 10:45 AM. Brands will pitch to a single judging panel of 2 people. The judges are individuals from the Business Venture's Team, National Team, Specialty Divisions, and KeHE. Each contestant has 8 minutes to pitch from a standardized template. There will be 2 minutes for Q&A. Samples are required.
What are the key dates I should know?
January 17: Submissions open
January 31: Deadline to submit. Depending on the number of responses, the application process may close early, so do not delay with application submission.
February 8: Suppliers are notified regarding their Innovation Launchpad submission status. Approved suppliers will receive a prep package which will include a presentation template, sample presentation, and video introduction.
February 10: Approved suppliers are notified of their meeting time and location
February 25: Contestants submit their presentations to Albertsons Innovation LaunchPad Team. Instructions are provided upon notification of participation.
March 8: Albertsons Innovation Launchpad Event at Hilton Hotel Anaheim. Winners will be announced at 11:45 in the ballroom. Contestants are invited to come to the ceremony.
How many people from my company can attend the Innovation LaunchPad event?
The maximum is 2.
Will I get distribution in Albertsons stores if I am chosen a winner in the Innovation Launchpad?
Merchandising and Assortment decisions are not being made at this event.
How many winners, and what are the prizes for the Innovation LaunchPad event?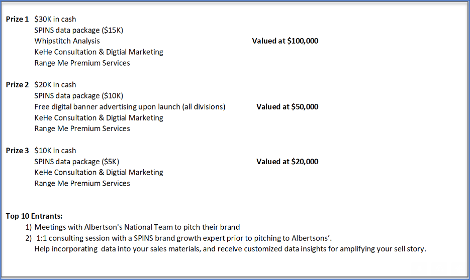 What is RangeMe?
RangeMe is the leading online platform that streamlines product discovery, sampling, and sourcing between suppliers and retailers. Albertsons has partnered with this web platform – RangeMe to gather all submissions for this event. Subject to space availability, only items submitted on RangeMe during the application period will be considered.
I am new to RangeMe; who will have access to the information I submit?
Information submitted to Albertsons on RangeMe is exclusive to Albertsons merchants during Innovation Launchpad.
How do I know if Albertsons received my submission?
You can confirm your submission to Albertsons by clicking here or selecting the Submissions tab at the top of your profile and selecting "my submissions" to view any submissions that have been made. Completed submissions will show a "view submission" button. Should we notify them if they were not chosen?
Note: Approved suppliers will be notified on Feb. 8 on whether they will be presenting live in Anaheim.
If I am selected to compete in the Albertsons Innovation LaunchPad, can I present more than one product?
Yes! If invited to Innovation LaunchPad 2023, you will have the opportunity to present all of your products within the same category to the judges.
Where can I find the answers to questions not covered in this FAQ?
Our friendly RangeMe support team is happy to assist. Simply email your questions to the Albertsons Innovation Launchpad team at albertsonsinnovation@rangeme.com
Now that I have received the email invitation to attend meetings, how do I confirm my participation in the Albertsons Innovation Launchpad event?
You will receive an Outlook invite from an Albertsons team member, which will include the next steps.
Do I have to attend the meetings if my products are selected?
Applying is a commitment to attend Innovation LaunchPad meetings, whether in person on March 8, 2023.
Can my presentation go over the 8- minute time slot?
No. This event is logistically complex to organize, and all timelines must be met for it to be successful. Please rehearse so that you can get all your points out in the allotted time. Presentations will be abruptly cut off if they run over.