As buyers hunt for the next innovative product for their stores on RangeMe, they will check out your brand page before they review the nuts and bolts of your product(s). The brand page can be thought of as the homepage of your website or the exterior of your storefront. It should convey the look, feel, and mission of your brand.
Brand Page
Your brand page ties together all elements of your brand. Your products are housed on this page where they are framed by the familiar icons, images, and words that constitute your brand. It is important to weave together all the elements of your brand page in order to craft a cohesive, effective story for buyers that check out your brand. The most effective brand pages leverage every space provided to get their branding out there and build momentum so that no buyer can pass them up.
Need help solidifying your brand identity? Browse RangeMe Services to find a Design Service Provider who specializes in brand identity or sales & marketing collateral.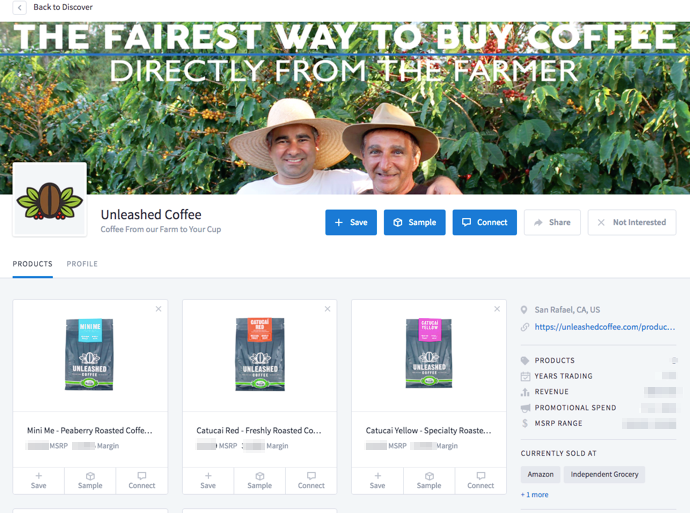 Cover Image
The cover image is the banner image at the top of every brand page. Any 1600x400 pixel image can be uploaded to this space. As this image is the largest element on your brand page, it is naturally the most eye-catching, so you should focus on using this space to convey your brand's aesthetic and to promote your selling points. You don't have to limit yourself to one single image for your cover photo, either — use any basic photo editor to add text, certification logos, or award ribbons you've won.

Read here to learn how to craft a cover image for your brand page.
Logo
As the main identifier of your brand, your logo is probably the most essential part of your brand outside of your products, and buyers are acutely aware that your logo is how consumers will recognize your products.
| | |
| --- | --- |
| | On RangeMe, your logo is how buyers recognize your brand, too. Your logo does not need to distill your message into one symbol; instead, it should function as an instantly recognizable reference point for consumers and buyers alike to associate with your brand. Do not upload a non-logo image in this space because buyers might think you don't have a logo. |
Brand Name & Tagline
On this page, you should put the name of the brand you are promoting, not the name of your company. For example, John's Cookies LLC should simply put "John's Cookies" as the name of their brand.
 Your brand name has a similar function as your logo, which means it should be a simple, distinctive, and relevant word or phrase that serves as a signifier for your brand and products. Your brand name should reflect your brand's personality and it should resonate with your target audience. 
The tagline found right below the brand name, is a quick slogan you can use to expand on what your brand offers and reinforce the key takeaway for buyers.
Brand Story
Your brand story is where you can share your brand's story with buyers. While your product profiles should focus on the substance and details of your products, your brand story should focus on the larger mission and history of your brand. It is the prime place to sell the buyer on what you're doing and why they should be a part of it. Go to the "Profile" tab to add your brand story.
Website
Type in the URL of your brand's website so that buyers can click on and visit your website to learn more about your brand. A professional and effective website also conveys a level of business maturity that many buyers are looking to see.
Do not link to your company's website if you are a distributor, broker, or representative of a brand. Buyers are more interested in the individual brand's website. 
Social Channels
In the age of the internet, social media presence is increasingly important for CPG brands. Facebook, Instagram, Twitter, Pinterest, and many other platforms play a vital role in helping businesses market to and connect with consumers. For most small brands, social media is the only direct-to-consumer marketing channel that falls within their budgets. Even for larger, more established businesses, social media is essential for reaching younger, tech-savvy consumers.

Instagram is becoming the top social media channel buyers look for on RangeMe. Check that you have a business account set up on Instagram and be sure to link all of your brand's social media accounts to your profile. This demonstrates your online presence, level of brand awareness, and how many followers you have on your pages. Buyers will be reassured that you are actively promoting your brand and fostering consumer demand.

   
Company Overview
 

Your Company Overview details are pulled from your product profiles and cannot be directly edited. They are intended to give the buyer a snapshot of your product line and company history.

Brand Card Preview
 

From a buyer's point of view, RangeMe is an extremely visual experience. The buyer dashboard is filled with brand cards, and these cards feature only three images: your logo, your cover image, and your cover product's image.

You want to focus on using these spaces strategically to stand out from the crowd. Keep in mind that this is what a buyer will see before they decide to click into your full brand page.

To preview your brand page card, click the icon to the right of the "Add New Product" button and then select "preview brand page as buyer."

                            
Your Brand's Importance
Every brand page has the same six or seven elements, yet no brand page is completely alike. We see some pages that are rich in color and character, and some that are sleek, gray, and professional. Any approach can be effective as long as it is consistent with your brand and your products. Make your Brand Page unique and true to your missions,  and buyers will see what makes your brand special.
-------------------------------
About the Author
| | |
| --- | --- |
|    | Gray wears many hats in his role as Customer Success Manager at RangeMe, but his primary motivation is helping set up suppliers for success. Outside of the office, Gray is an avid skier and amateur historian. |