Limited- Time Applications are an exclusive feature of RangeMe Starter, Premium and Pro. These are immediate opportunities from buyers that are actively sourcing specific products from RangeMe, right now! New opportunities are added weekly, and it is critical to check each week for new opportunities that your brand may be a great fit for. 
Did you know? 75% of suppliers that are accepted to meet with a buyer from Limited-Time Applications are RangeMe Premium, Verified brands. Don't miss out on your chance to be discovered - upgrade to RangeMe Premium today!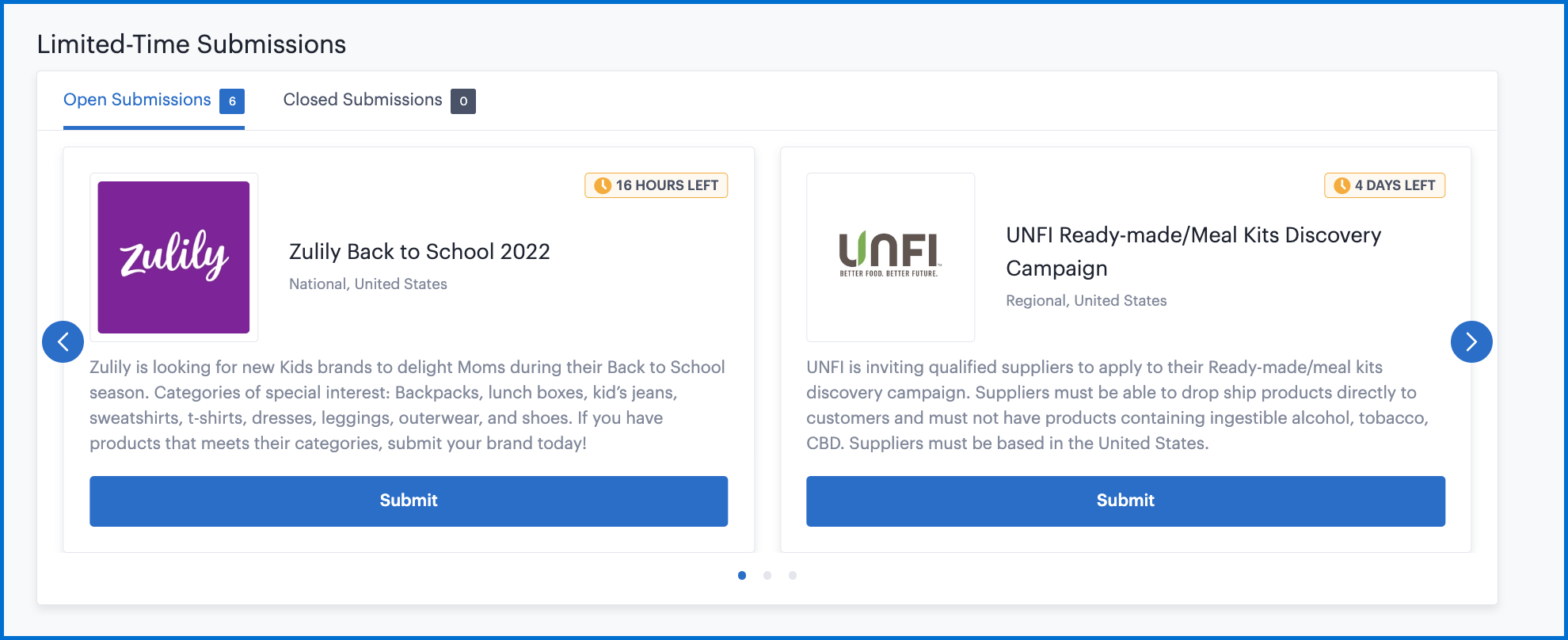 These retailer opportunities each have a set expiration date that is determined by the retailer and will automatically stop accepting applications once their timer expires or by the retailer's request. Each limited-time application has its own banner located at the top of the Retailer Opportunities page.
Limited-time submissions are not counted against a Premium or Pro supplier's Ongoing Submission per retailer per year; these are additional opportunities. 
Limited-Time applications are available only to Starter, Premium, and Pro suppliers in most cases (upgrade to RangeMe Starter to unlock access to Limited-Time Applications) 
Upon clicking Submit on the application, you may be prompted to select the specific products you'd like to submit from your selected brand. For suppliers with multiple brands, you can repeat this process of submitting relevant products from your other brands to these exclusive submissions. You will also be able to choose which brand to submit if you have multiple brands. 
After you have completed your submission, you will be able to review your entries at any time under your Manage Submissions page. The "Status" column will be updated once you start your application and until the buyer has completed their review:
Approved - the buyer has selected your brand to move forward to the next step of their process! Keep your eyes out for an email about the next steps, including how to get registered for a meeting if that is part of the buyer's sourcing campaign 
In Review - the buyer is currently reviewing the applications
Not Selected - the buyer decided not to move your brand forward in their process for this campaign 
Draft - you have started the application but have not yet submitted it. You can submit it anytime before the campaign deadline
Not Submitted - your application was not submitted, and the campaign deadline has passed
Have questions on Limited Time Applications? We can help! Contact our team at Support@rangeme.com