Profile Insights show buyer activity on your profile including brand and product views and where buyers spend the most time. This can help you strategically time your Submissions and act as lead gen for small and medium size retailer buyers.
Insights Overview

Retailers - the number of retailer groups that have viewed or visited your profile. Most retailer groups on RangeMe include more than 1 buyer for that retailer.
Views

- a view occurs when a buyer sees your brand or product card on their dashboard or in an email.




If you notice a retailer listed multiple times, there are two possible explanations:



Your view count includes views from different buyers working for the same retailer. The majority of our retail partners have many buyers on the platform.

The other explanation is that one buyer is viewing your product in more than one session or search.
Profile Visits - when a buyer clicks through to your brands and products from their dashboard, an email, or link share. When a buyer visits your profile, you will be able to view the retailer they work for, the page they visited, and the time spent on your profile under the recent visits section of your Insights page. In order to view any additional information on this particular visitor select "View Stats" or "View Visit Details"
Conversions

- A conversion is counted when one of the following actions are performed for your brand from the buyer side:
A buyer requests a sample of your brand

A buyer messages your brand

A buyer saves, or shortlists, your brand
Note: We are unable to provide the name or contact details of the specific buyer that interacted with your brand or products, per our agreements with retailers. Instead, buyers can reach out to you at any time via message, to request a sample, or saving (a shortlist that is essentially a bookmark directly to your profile so that they may review again at a future date!)
Recent Views and Visits

This section covers all the recent views from buyers, number of stores that buyer has, the source - how a buyer discovered or accessed your brand/product, what they views, and when they viewed your product or brand.

This section covers all the recent visits and shows which retailer the buyer is from, the source - how a buyer discovered or accessed your brand/product, pages visited, how much time on the profile, and how long ago they visited.
Search in "Profile Views" and "Profile Visits"
You can click on "View all Views" or "View all Visits" to pull up your full View/Visit history. From there, you'll also see a Search bar where you can search by a specific retailer, a specific source of where the buyer viewed your product, or by which of your products the buyer viewed/visited.

Detailed Profile Visit data
When a buyer visits your profile, you can click on "View Stats" to get a detailed view of their visit.


Note: You can also see what action the buyer has taken within this area. Actions include: connecting with your brand, requesting a sample, marking Not Interested, or saving your Brand Card. These actions can only be viewed if that buyer selected one of these while on your profile page.
Popular Brands and Products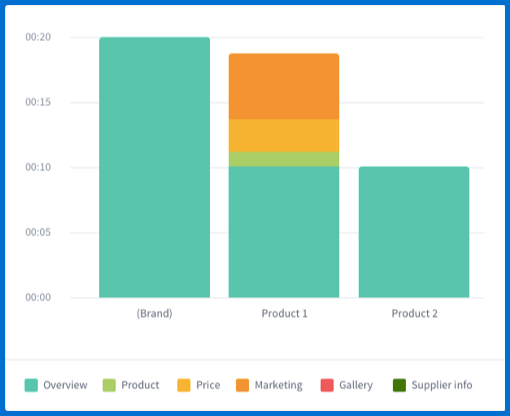 The Popular Brands and Products chart shows your most visited brands and products, broken down by the average time spent on different sections.
Note: This chart does not show Profile Visits before March 2017.
Actions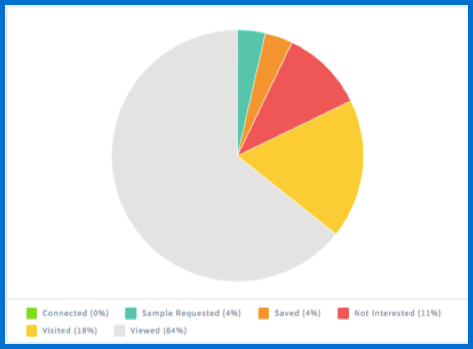 This chart shows the actions a buyer takes on your brand and products can include: save, sample, connect, viewed, visited, or marking Not Interested.
Activity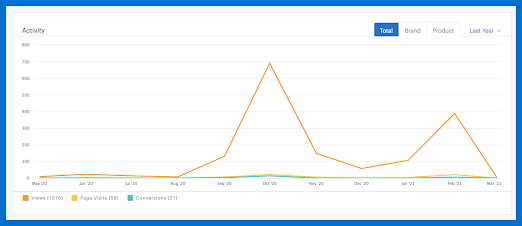 The Activity Graph shows views, profile visits, and conversions across specified time periods.
How to Strategically Use Profile Insights
If a buyer from one of our large retailer partners that participates in Submissions has viewed or visited your brand, you'll see an option to Start Submission or View Submission for that retailer:

This is a great way to strategically time your Submissions. If a buyer from a retailers has recently viewed your brand but hasn't reached out, it's ideal timing to get back in front of them while you are top of mind so that they remember your brand!
For small and medium-sized retailers that don't have Submission opportunities, your recent Views and Visits can act as lead gen to help you prioritize your outreach on social media channels, via their website, etc.
You can the "Source" column on the Views and Visits tables to see how buyers are finding your products/brand. If you notice a common keyword coming up, make sure it's one that best fits your product, and adjust your product text if it isn't. If you would expect to see a keyword that isn't coming up often, add that in more places (Product Description, Unique Selling Propositions, Tag Line) to make sure your products are populating for those searches.
You can use the "Popular Brands and Products" section to understand what products are generating the most interest from buyers. This is a great way to test out things like different keywords, Unique Selling Propositions, and Images across your different products and then understand which leads to the most views and visits from buyers