Insights show buyer activity on your profile including brand and product views and where buyers spend the most time.
Read more below to learn more about each data piece and visual data provided.
Insights Overview

Views

- a view occurs when a buyer sees your brand or product card on their dashboard or in an email.

If you notice a retailer listed multiple times, there are two possible explanations:




The views are most likely from different buyers working for the same retailer. The majority of our retail partners have many buyers on the platform

.

 

The other explanation is that one buyer is viewing your product in more than one session or search.

Note

: If you wish to see the number of unique buyers views refer to the actions graph.

Profile Visits

- when a buyer clicks through to your brands and products from their dashboard, an email, or link share.

When a buyer visits your profile you will be able to view the retailer they work for, the page they visited and the time spent on your profile under the recent visits section of your Insights page.

In order to view any additional information on this particular visitor select "View Stats." 

Within the view stats tab, you are able to see what the buyer has viewed while you're visiting your profile page. This will also let you see what order of things they viewed, and how long they spent on each desired section.


You can also see what action the buyer has taken within this area. Actions include: Connecting with your brand, Requesting a Sample, Marking Not Interested, or Saving your Brand Card. These actions can only be viewed if that buyer selected one of these while on your profile page.
Conversions

- when a buyer saves, samples or connects

Avg. Time on Profile -

Average time buyers spend when visiting your profile
Popular Brands and Products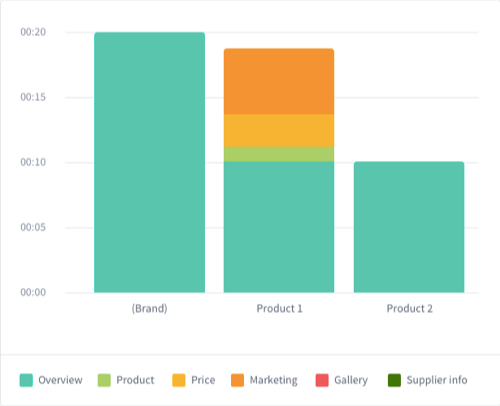 The Popular Brands and Products show your most visited brands and products, broken down by the average time spent on different sections. This chart does not show Profile Visits before March 2017.
Actions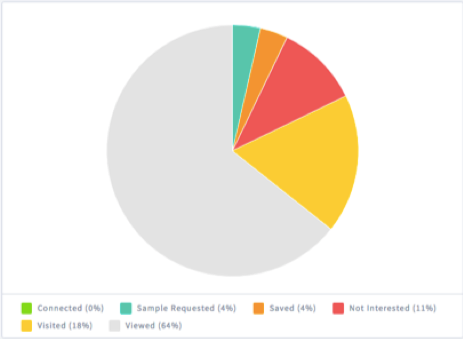 A view of the actions buyers take on your brand and products, including Save, Sample, Connect, or marketing Not Interested.
Activity
The Activity Graph shows Views, Profile Visits, and Conversions across specified time periods.
Detailed Profile Visit data
When a buyer visits your profile, you can click on "VIEW STATS" to get a detailed view of their visit.

Time on Profile

—

time buyer spent visiting brands and products
Profile Visits

— number of Profile Visits from the buyer. A Profile visit is counted when a buyer clicks through to your brands and products from their dashboard, an email, or link share. A Profile Visit is a parent metric to Page Visits.
Page Visits

— number of brand and product pages the buyer visited