Sharing your RangeMe brand page is a great way to have your existing buyer contacts review your product catalog online, even if they don't have an account with RangeMe. It gives you the advantage of sharing all the relevant information a buyer needs, while also giving you valuable data on how they interact with your brand and products on RangeMe.
Here are a few tips to enhance your shares for better results:
1. A personal message should be… personal
Did you meet the buyer at a tradeshow? Or have you already been exchanging emails or phone calls? If you've already been in touch with a buyer, a great start to the conversation is to reference where you met or share existing information from your previous interactions.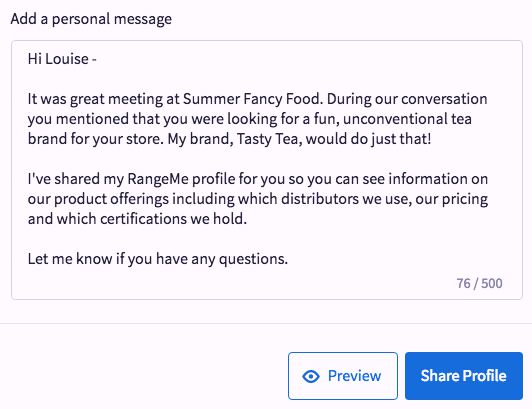 Even if you've never interacted with a buyer before, you can still personalize your message. Relevance is key here. For example, if you know the buyer is in the middle of a category review, mention in the subject and body that you're submitting your products for this exact reason.
Because buyers receive thousands of emails a month, this will help cut through the noise and let the buyer know this isn't just a cold email.

2. Subject lines that get opened
Before a buyer sees your personalized message and your beautiful RangeMe profile, they will read your email's subject line. If possible, personalizing the subject line is ideal. Otherwise, the goal of your message's subject is simply to get them to open the message. When drafting a personalized message take into consideration these three tips:
Clear before clever: Your subject line should clearly tell buyers what they will get out of opening the email (but a little intrigue is okay!). 

Short and sweet: The subject line should be less than 50 characters as subject lines can sometimes be cut off on mobile devices.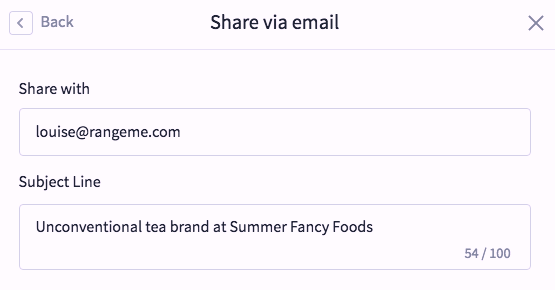 Don't resort to crazy tactics to get them to open your email. Keep it short and relevant to the audience. Then it's time to...

3. A/B test to win

A/B testing is a great way to optimize your email content by figuring out what actually works for your audience. Here's how you do it: First, try two different subject lines amongst a group of contacts. Then see which has a higher open rate. Going forward, use the winning subject line. You just optimized your email open rates and potentially your life.

Are you interested in knowing if a buyer opened your email? Click here to learn how to get this feature plus additional insights on buyer activity.
Better Results
Using these three tips can drastically help improve your messages to buyers and help you get noticed in a sea of other brands. Regardless of the content you put in your message, make it count.
To share your brand, go to your profile to get started. If you want to learn how to share your brand, click here to learn more.
-------------------------------
About the Author
| | |
| --- | --- |
| | A veteran at building customer success and support teams, Kevin is currently the VP of Customer Success at RangeMe. Kevin's two passions are playing in his band and seeing our amazing suppliers and buyers succeed on RangeMe! |