In the second section of the product upload form, item details include all the fields that are specific attributes that apply to your product. The fields included in the item detail section are:
Item Name

Item Image

Suggested Cost & MSRP

Pricing Comments

Barcode

Ingredients

Nutritional Label

Packaging Dimensions

Item Measurements (oz, fl oz, unit count) / Amount

Units Per Case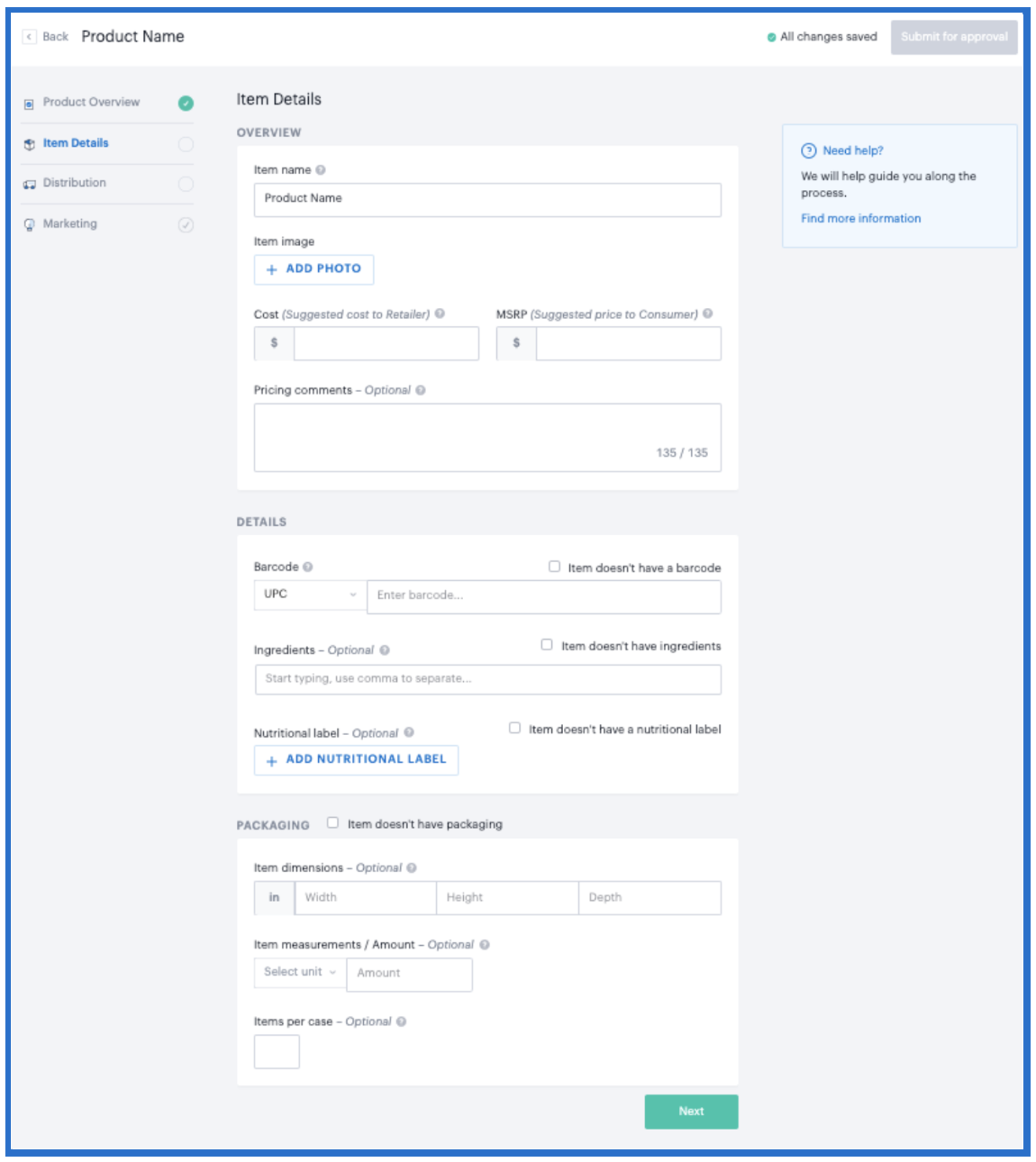 1. Item Name
Item names differentiate from your product variations if you have multiple flavors, sizes, scents, etc.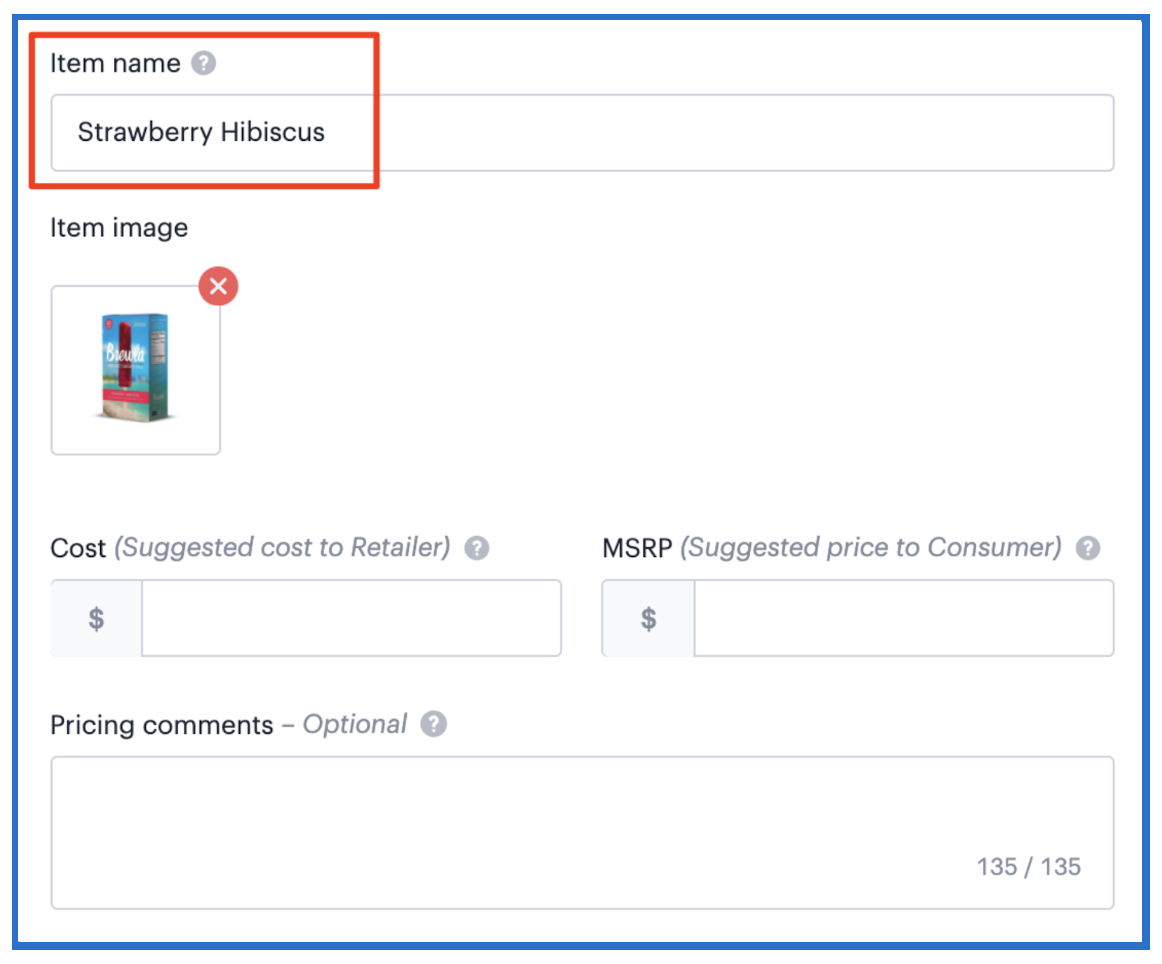 In order to include multiple variants, you will need to complete this section of the item details tab. Once completed, click "next" at the bottom of the page. This will prompt you to add a new variant if needed. Need more information on variants? Click here.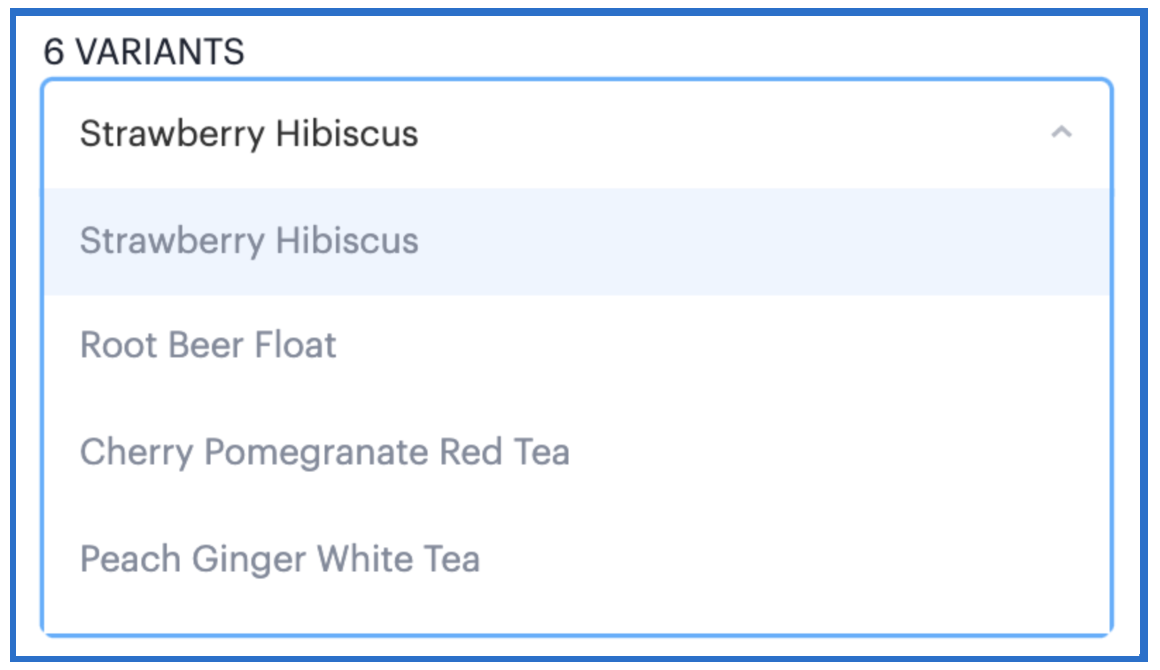 2. Image
Your product image is the first thing a buyer will see when they view your product and it serves as a major factor in whether or not they view further details on your product.
Image Requirements
An actual photo of your product as it would appear on a retailer's shelf

A clear image on a solid white background

The image should be clear, close up, and take up at least 80% of the frame

In an accepted format: JPEG, PNG, and JPG

Must be at least 1000x1000 pixels with a maximum 2MB file size
If you are uploading an image: Click "browse" in order to select an image saved to your computer.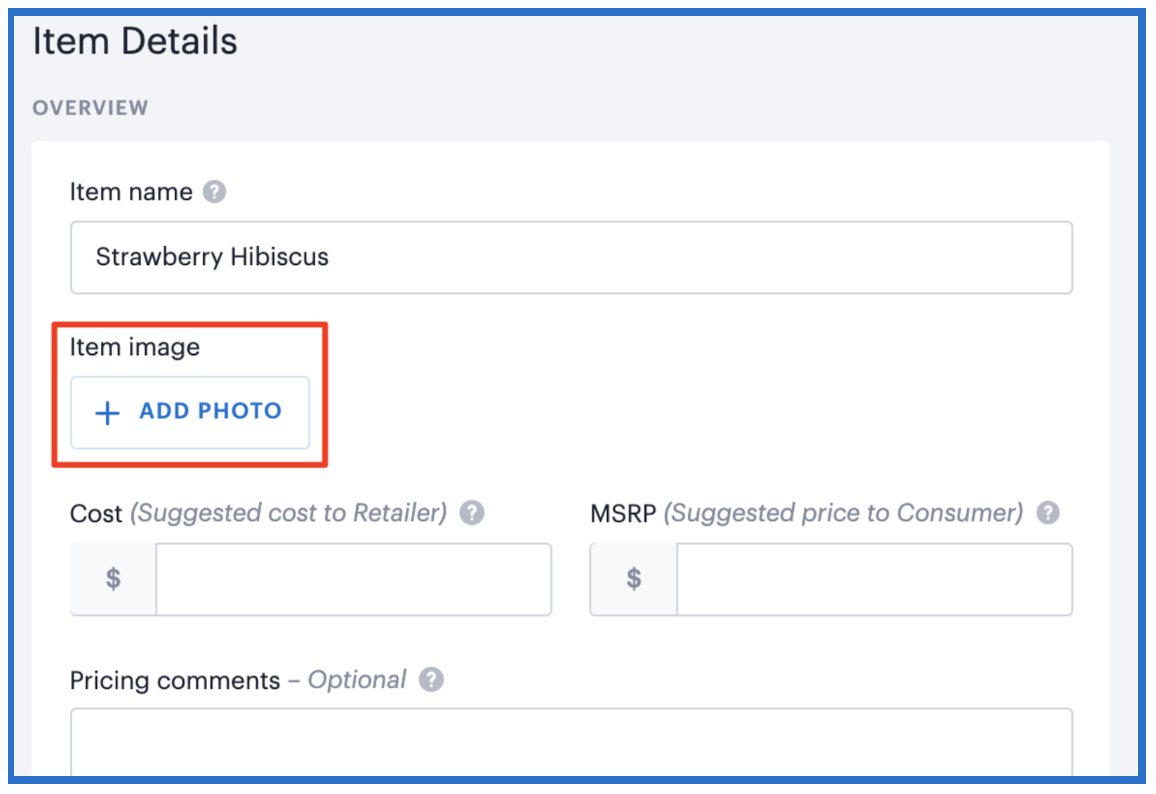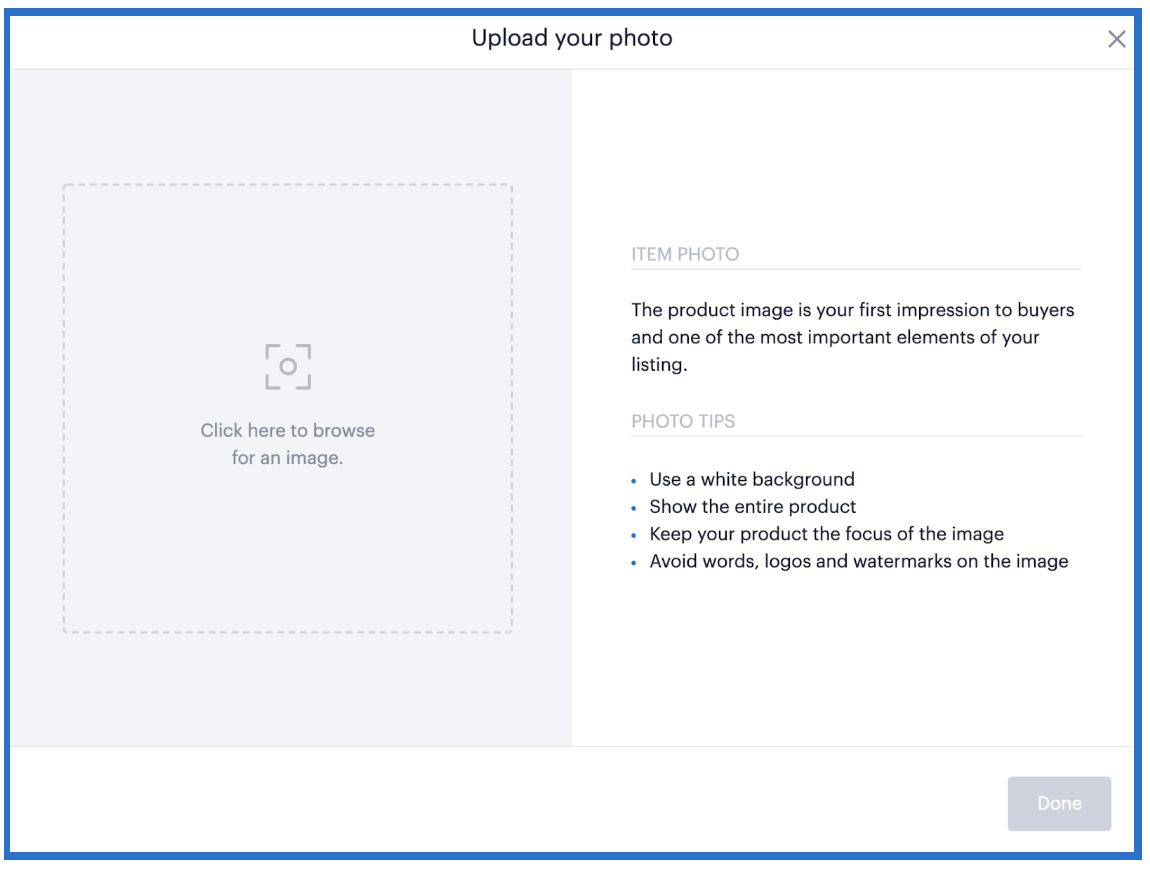 If you are trying to replace an existing image, Click the red "X" on your product, then click "add photo".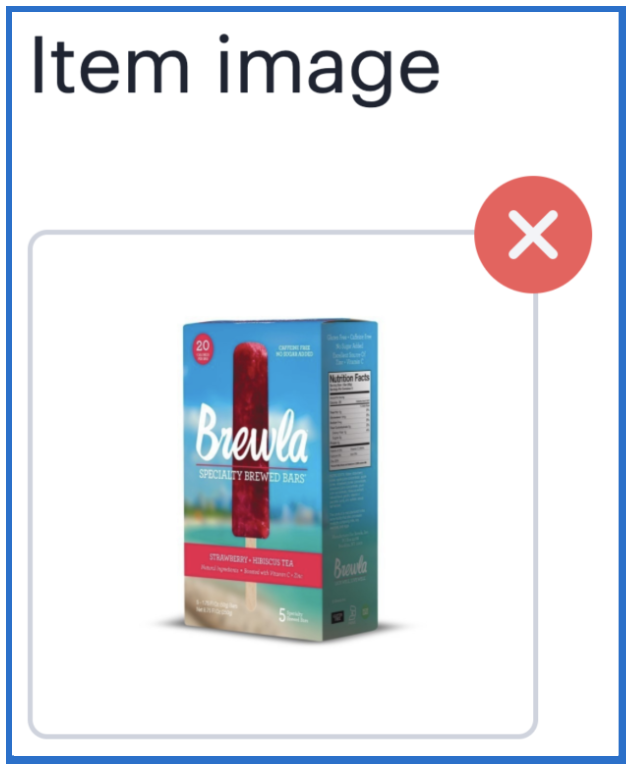 3. Suggested Cost & MSRP
Cost and MSRP/RRP are used to calculate Gross Margin, i.e. the return on a product for retail buyers.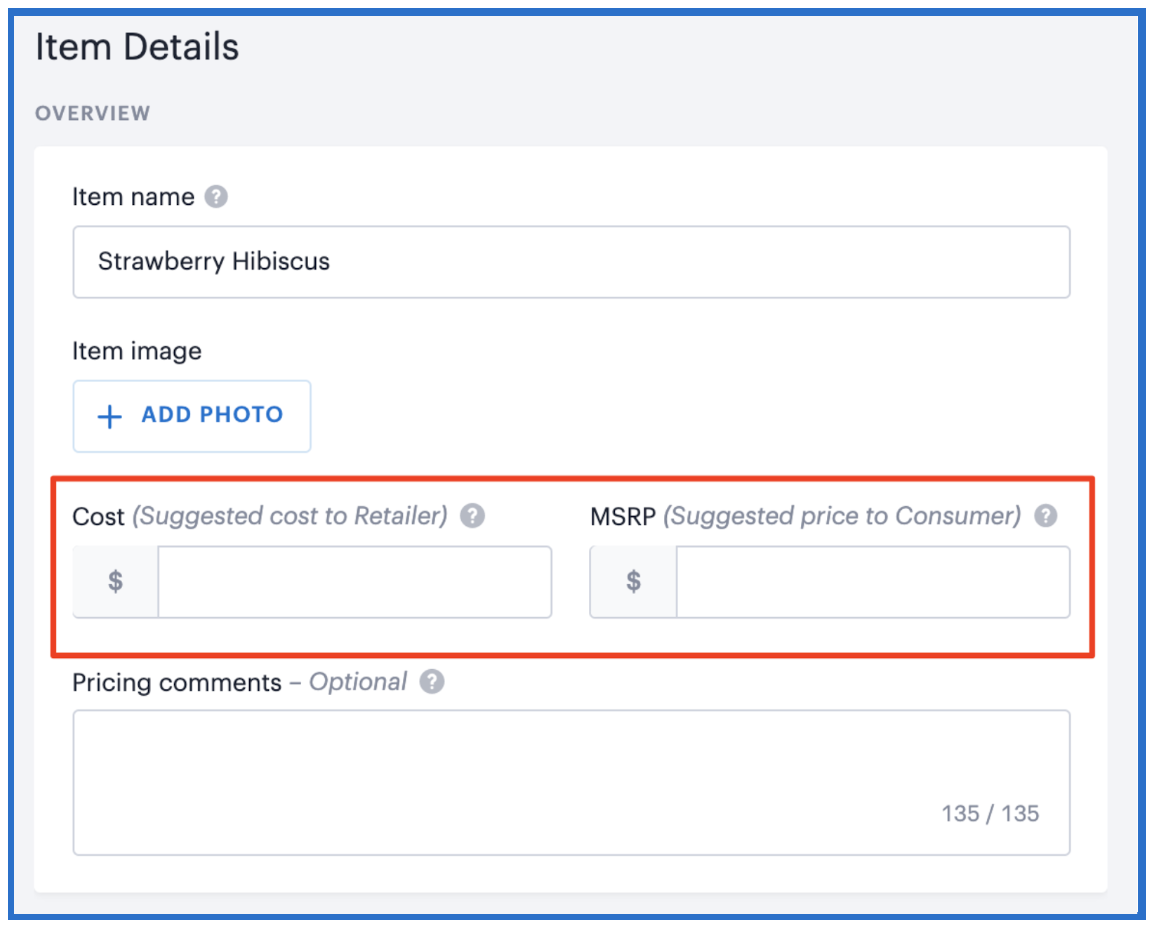 Suggested Cost is loosely defined by our platform as the per-unit cost of your product for retailers to purchase.
Note: RangeMe is a platform for product discovery, product details will always remain negotiable. Wholesale or shipping negotiations can be discussed with potentially interested buyers once they have connected with you, they should not be factored into your product's suggested cost.
Manufacturer's Suggested Retail Price(MSRP)/ Recommended Retailer Price (RRP)* is the price that the manufacturer or supplier suggests a retailer sells their product at. This price should reflect the estimated value of your product to consumers.
*Price should be inclusive of GST (Australia and New Zealand only).
4. Pricing Comments
This field allows you to enter any additional comments or clarifications regarding either your cost or MSRP/RRP. For example, you can use this field to discuss minimum order quantity, pricing flexibility, and other pricing considerations.
Note: These comments will appear in the Pricing section of a product preview.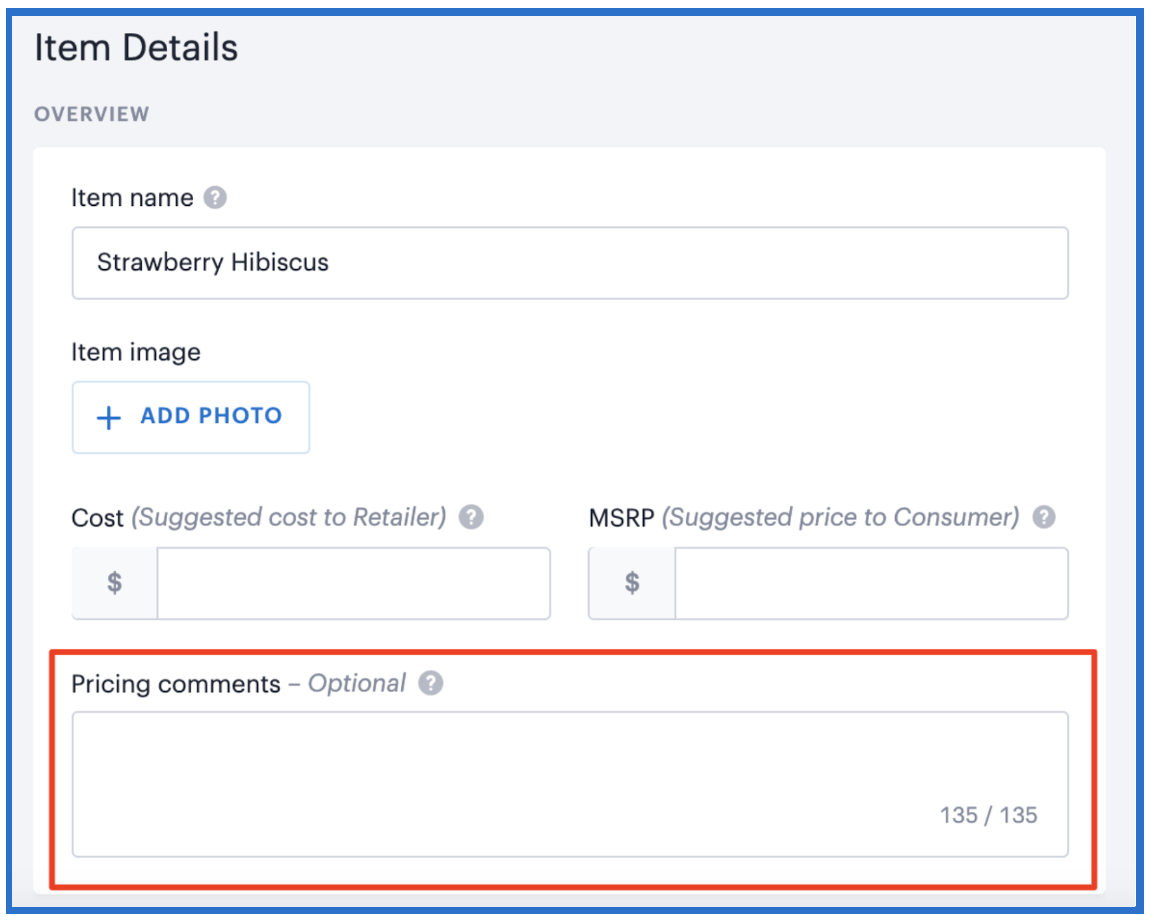 5. Barcode Type & Number
Barcodes are one of the most important things buyers look for when reviewing your product. To add your barcode number, from the product basic edit page:
Select the appropriate "Barcode Type"
Barcode types:
UPC- or a Universal Product Code is a twelve digit barcode used mainly in the United States and assigned by GS1 US, an organization that sets standards for international commerce
EAN-13- or European Article Numbers (also referred to as International Article Numbers) is a thirteen-digit barcode used worldwide
ISBN- or International Standard Book Number is a thirteen-digit numeric book identification
Don't have a barcode? Simply select the option "I don't have one"
Note: Select "Item doesn't have a barcode" if your product does not require a barcode. You will need to enter a barcode in order to get RangeMe Verified if you are not exempt.
Enter the number without hyphens or spacing in the field below
Note: Your check digit will need to be accurate in order for your barcode to be accepted.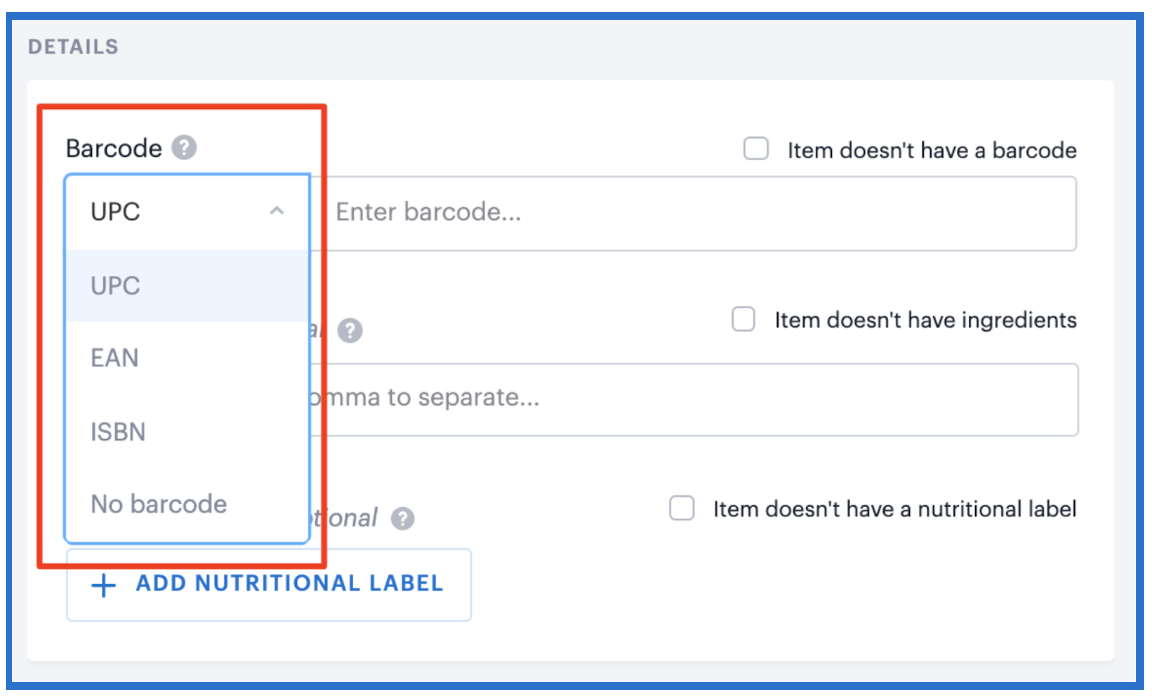 6. Ingredients
Include a list of ingredients or materials that make up the product (applicable to food, beauty, healthcare, edible toys, etc).
If your product doesn't fall under an applicable category please select "Item doesn't have ingredients." If you are in an applicable category and not exempt you will need to list ingredients in order to be RangeMe Verified.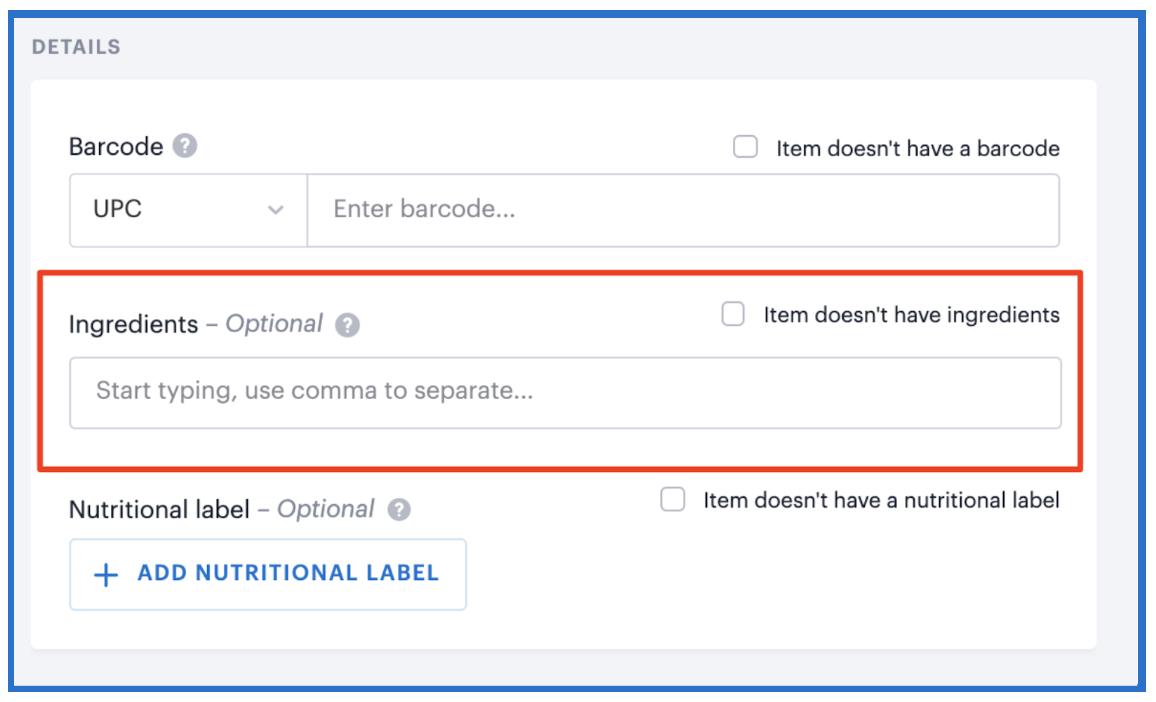 7. Nutritional Label
Add an image of your nutritional label as it appears on the packaging of your product.
Note: Although the nutritional label is an optional field, if your product falls under an applicable category a nutritional label will be required to get RangeMe Verified.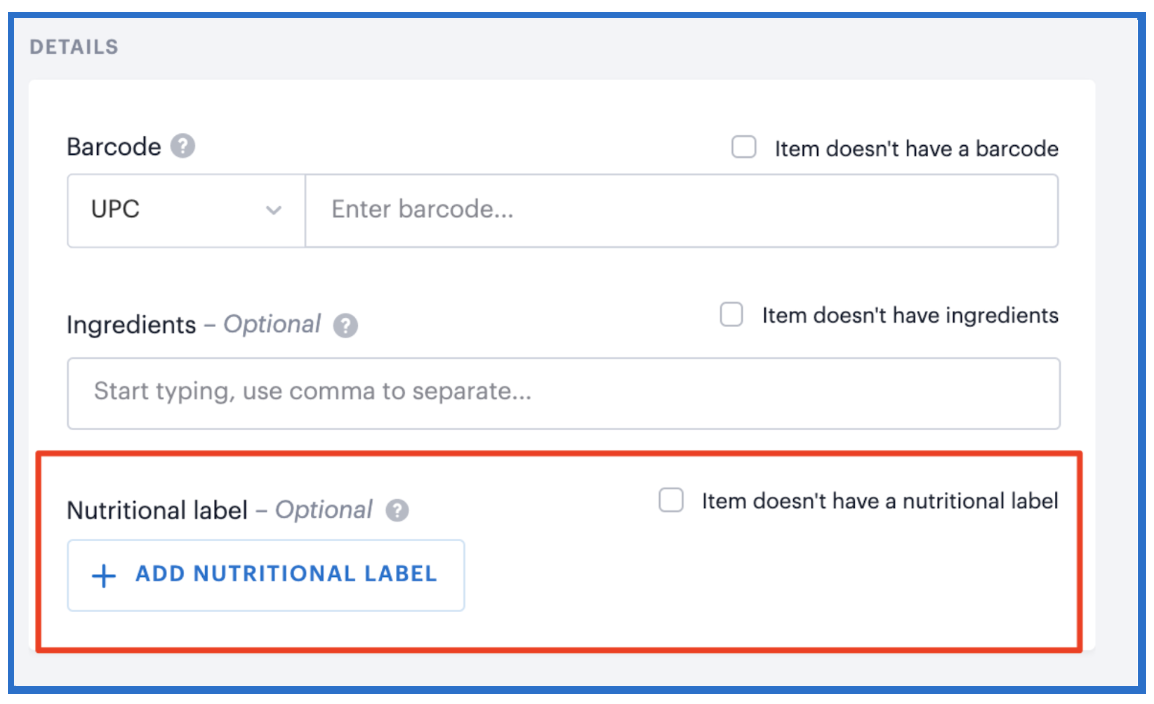 You will then be prompted to this page: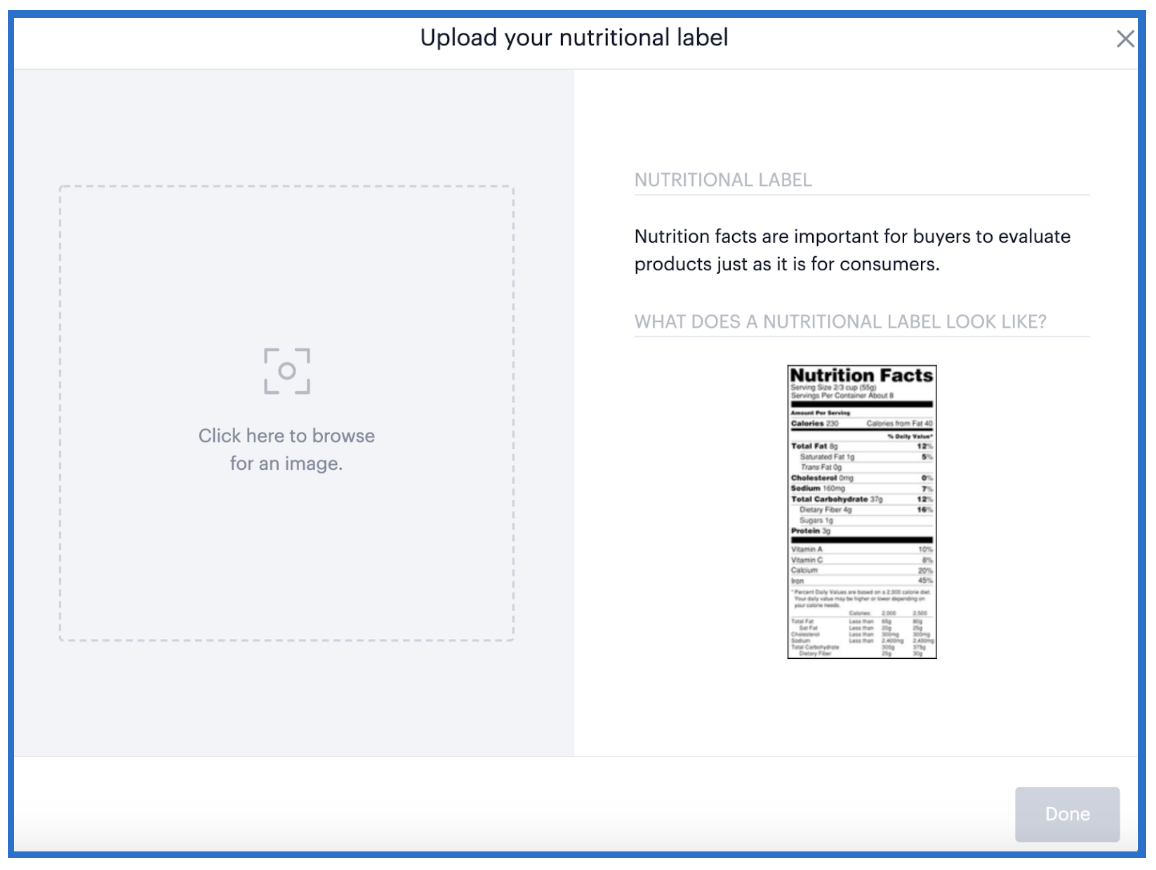 8. Packaging
Item Dimensions:
Height- As positioned normally on the shelf: The distance from the bottom to the top of the item.
Width- As positioned normally on the shelf: The distance from the left to the right of the item.
Depth- As positioned normally on the shelf: The distance from the back to the front of the item.
Item measurements (oz, fl oz, unit count) / amount:
Add the weight (oz), volume (fl oz), or count (for multipacks and non-food products) for your product. Most non-food products should choose a count of 1.
Numbers of items per case:
The number of items refers to the units that will be shipped in one case to distributors or retailers.