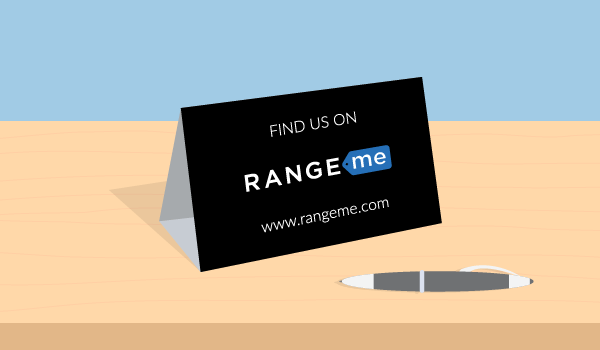 There's no doubt about it, trade shows will always be essential elements of your business' success. Trade shows give retailers of all sizes the opportunity to discover new brands in person, meet with existing suppliers, and make valuable business connections.
As important as trade shows are, attending them can be a hectic experience. It is easy to feel unprepared once you hit the trade show floor, which is why planning for all phases of the event is so important. Luckily, RangeMe offers buyers the necessary tools to help organize your trade show experience, streamline communications with prospective suppliers, and continue product discovery online after the show ends.
Incorporate the following best practices for using RangeMe during your next trade show for a seamless product discovery experience!
Before the show
Going to a trade show is a great time to meet new brands face-to-face and connect with suppliers you found on RangeMe. Your days will be jam-packed with meetings, product demos, education sessions, and will often include happy hours and networking sessions–depending on any COVID-19 restrictions or guidelines. To make the best use of your time at the show, it's important to get organized and plan out which brands you'd like to check out in person before the show.
This is where RangeMe can help. Incorporate RangeMe into your pre-show plan by creating a target list of brands you want to meet in person. We recommend building a list of brands you've already noted interest in or been in conversation with on RangeMe.
You can find these brands in two different places: your 'Messages' inbox or your 'Interested' and 'Saved' folders. Suppliers will indicate which trade shows they are attending on their profile, so be sure to check there to find brands who will be at the same trade show you're attending!

Additionally, we've made it easy to discover suppliers that will be attending upcoming trade shows like Natural Products Expo West by curating Collections for brands and their products who are exhibiting at those shows. Simply navigate to your 'Browse' tab, click the 'Collections' filter, select 'Trade Shows' and choose the trade show you are interested in viewing.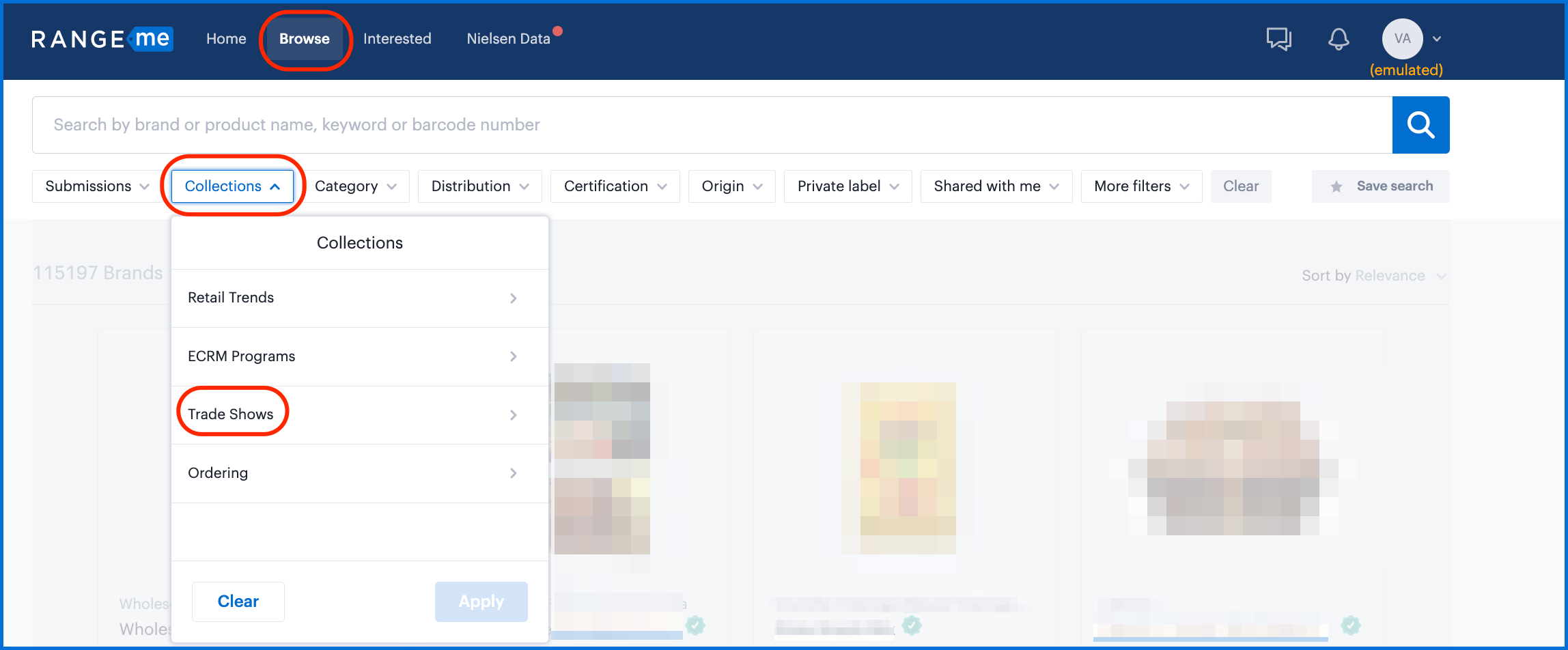 Once you've identified a list of suppliers you'd like to connect with, create a custom message template to send to these suppliers so you can schedule meetings for when you're at the show.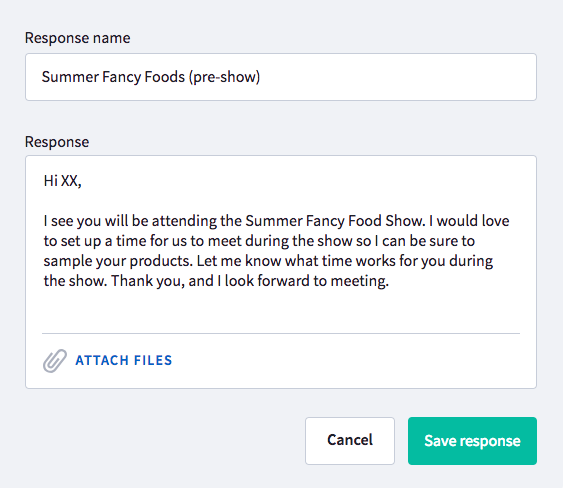 During the show
Suppliers will do their best to get your attention as you walk down the aisles. It's easy to get distracted or not have time to stop and chat, so use RangeMe to keep track of brands you're interested in checking out later.
To help you quickly identify which brands are already on RangeMe, we've equipped suppliers with RangeMe signs for their booths. When you discover a brand you're interested in, log in to your RangeMe profile on your phone's web browser or open your RangeMe mobile app to save them to a folder and follow up later.
After the show
Once you get back from the show and are ready to review the brands you saw or met at the show, don't forget to reference the brands in your Saved folder on your profile. What's great about reviewing these brands on RangeMe is that you can learn important information at a glance, including things like product SKUs, distribution capabilities, certifications, MSRP, etc. These details can help you further narrow down the brands you want to pursue and which products you want to sample prior to connecting.
To streamline your follow-up communications (and not send one-off emails like you may have done previously), start your conversations in RangeMe to keep everything in one place, while keeping your contact information private. Before you send off your follow-up messages, make sure to create a custom email template to save yourself time.
With these best practices for incorporating RangeMe in mind before, during, and after a trade show, you'll be set up for success at any event you attend!