RangeMe has a Home page for buyers. The buyer Home makes it both easier and more efficient for retail buyers to discover new and innovative products that meet consumer demand.
As a buyer on RangeMe, you will be taken to the Home page whenever you log in or when clicking the RangeMe logo at the top-left of your page.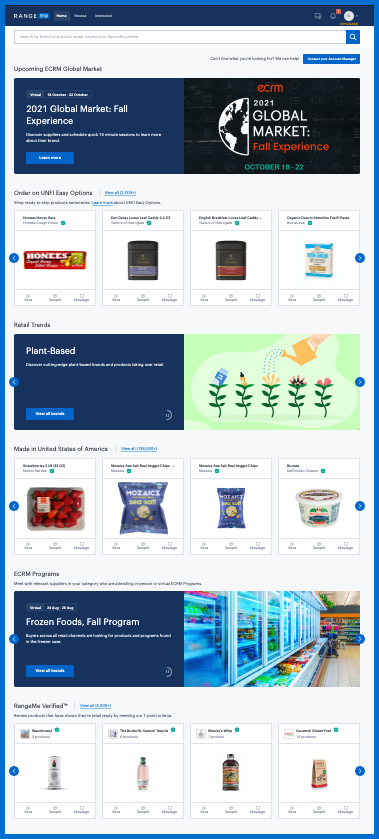 On your Home page, you will always be shown the following discovery options:
Any upcoming events like RangeMe Deal Days within your categories

Submissions

to your Retailer

Discover emerging products with

RangeMe Collections

under Retail Trends

ECRM Programs

RangeMe Verified

brands
Each mode of discovery is meant to help ease the process of finding new and relevant products, as well as using the platform as a whole!
Submissions
If your company has opted into receiving submissions, then you will see submissions to your retailer on the 2nd row on your home page. Scroll through products 4 at a time or click the "View All" button at the top-right to be taken directly to your Submissions tab!
Discover emerging products with RangeMe Collections
Select a RangeMe Collection, to explore curated lists of brands and products that RangeMe has gathered for you, based on the collection chosen. This is a great tool to use if you're looking for that next hidden gem!
ECRM Programs
You can find relevant ECRM programs here. Browse the ECRM collections to see what brands will be attending these programs! If you're a buyer who will be attending one of these shows, it can be a great way to get a sneak peek at the attending brands or even a way to set up some meetings on your own time.
RangeMe Verified

If you're curious to look at the RangeMe Verified brands on the platform, this section will take you straight there! Here, you will only see brands within your subscribed Categories that have achieved this Verified status, which means they are retail-ready.