RangeMe Collections will help you find inspiration and discover new products and trends with the click of a button! Navigate to Collections to discover products recommended for you, trending on Instagram, outperforming in sales in their category, and more!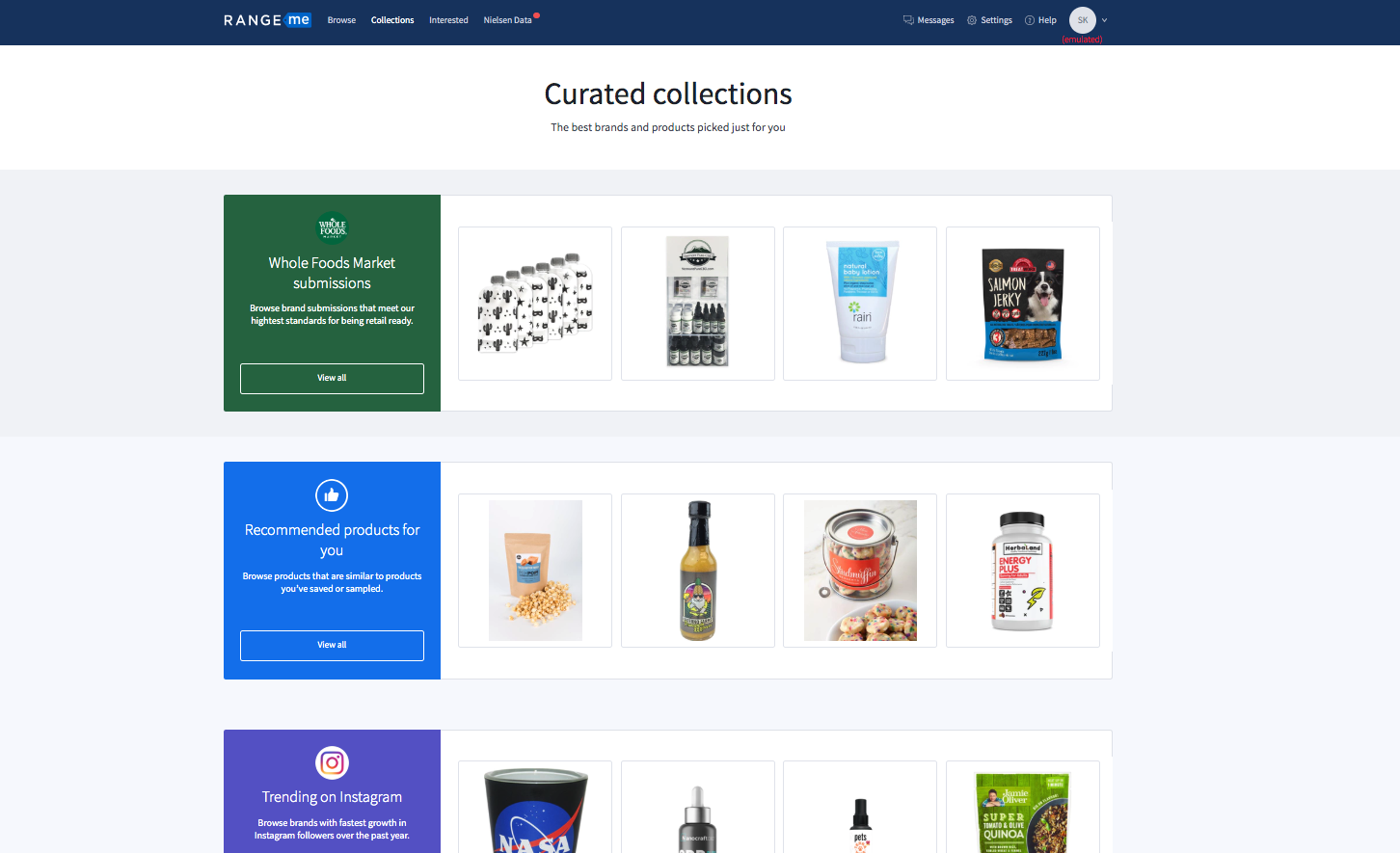 In order to view these products select the "Collections" tab from your navigation bar as shown below.

Once you have navigated to Collections from your dashboard you will be able to select one of a number of different collections each outlined below:
Submissions:
The submission collection will allow you to browse brands that have submitted their products directly to your retail organization. . This collection will only be available to retailers who leverage RangeMe Retailer Submissions to manage their inbound supplier's submissions and have had brands in their selected categories submit to their retailer.
Recommended Products For You:
This collection allows you to browse products that are similar to products you've previously saved or sampled. The more products you take action on the better the results will be, start saving products of interest to improve your results!
Trending on Instagram:
Browse brands with the fastest growth in Instagram followers over the past month. This collection show brands who have had a significant increase in followers rather than suppliers with the greatest number of followers. This allows you to have more insight into emerging brands.
Nielsen Top Performing Products:
According to data provided by Nielsen, suppliers within this collection will have sales growth per store that exceeds their category average. All buyers, even those who do not subscribe to Nielsen, will have access to this collection. Learn more about how buyers subscribed to Nielsen can take advantage of this data on RangeMe here!
Curated Collections:
Curated Collections are created for you based on what's generating a buzz in the industry. These Collections are rotating and may not always be available for every category.
Trade Show & ECRM Program Collection:
Suppliers in your category attending an upcoming ECRM program or have indicated that they are attending one of the trade shows from the RangeMe trade show list will be presented here.
Note: if you'd like to request a trade show be added to the RangeMe tradeshow list reach out to our team at buyers@rangeme.com