A high-quality brand page is essential to getting your brand in front of buyers on RangeMe. By simply adding a cover image and logo you can transform your RangeMe profile from a basic product listing to a dynamic piece of sales collateral.
But finding all the pieces to complete your brand page isn't always so simple. Check out some resources below to help you complete your brand page and let your brand shine!
Finding a Cover Image
A great logo and cover image go a long way with buyers.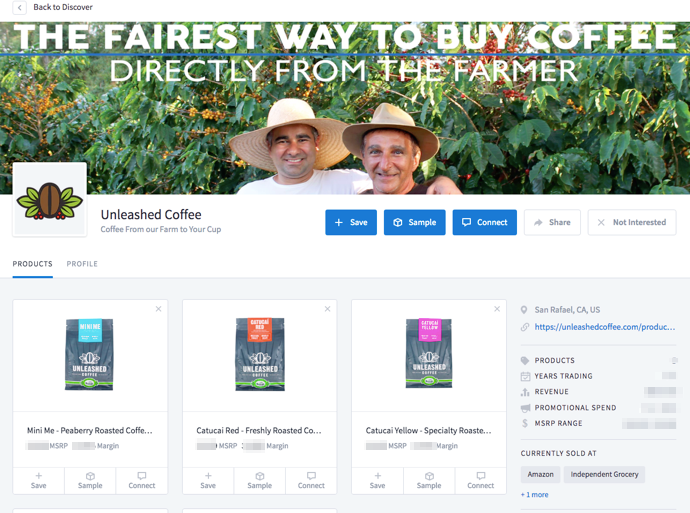 Think of your cover image as part of the packaging of your RangeMe profile. If a buyer isn't drawn in by your brand's exterior, the chances that they open your profile to review your products inside dramatically decreases.
The perfect size for your cover image is 1600 pixels wide by 400 pixels tall. Because you can adjust your image once you add it to your profile, any high resolution image will work even if you don't have an image this size.
If you don't have an image that works for your RangeMe profile, here are a couple of our favorite resources for finding completely free and reusable images. Check out the attached guide for a few examples of great Cover Images.
Tip: The first place to look for a RangeMe cover image should be your Facebook or Twitter profiles because they have the exact same size requirements.
Unsplash has literally tens of thousands high-resolution images for you to search and download. To top it all off, it's completely free. Yes, you read that right: free. By just typing in your search criteria you can find a great looking image for your RangeMe brand page.
See a great example of an image we found on Unsplash by searching for "produce":
Just like Unsplash, Pexels is another site filled with free to use images. They're constantly adding new photos too -- so if you need to update your profile, check back periodically if you want to refresh your brand's look.
Editing Images and Making Logos
Having a great-looking cover image is the first thing you'll want to cross off your to-do list if you haven't done so already. Up next is to add a great looking logo (the ideal image dimensions here is 200x200 pixels, but most square images should do). If you don't have a logo or want to make some edits to your cover image, check out the below resources to upgrade your brand page.
Maybe you've found a great image and you want to make some edits or maybe you just don't want to devote thousands of dollars to purchasing expensive design software. Regardless of the occasion, Canva is an amazingly powerful and free tool that will rise to the challenge.
With Canva you can do everything from adding text to your cover image to building full-blown graphics for use on social media or online ads. We love using Canva here at RangeMe and it's incredibly easy to learn, which means you can be making designs in no time. Oh, did we mention that it's free to sign-up?
Looking for the right icon for your logo? The Noun Project is a tremendous resource if you need to find an illustrated graphic. With almost a million options to choose from, you'll be sure to find a design and style that matches your brand.
The Noun Project is reasonably priced and completely free to search if you're looking for some great inspiration for your next logo design.
Tip: Upload the icon you've found on The Noun Project to Canva to add text or to customize it and make it your own!
If you're looking to have a designer create you a logo from scratch, we recommend 99designs. You provide a creative brief and within days you'll have artists to choose from at an affordable price.
Regardless of the tool you use, be sure to add a cover image and logo. It's one of the best ways to get noticed by buyers and will take your RangeMe profile to the next level.