Having product samples available to send out to prospective buyers, retailers, and media is part of many suppliers' investment and business strategies. Often suppliers send samples to retailers, even if the retailer hasn't asked for one, in hopes of catching their interest.   
As a supplier on RangeMe, buyers will contact you when they're interested in a sample. But before you run off to mail your sample package, it's important to determine whether a retailer is a good fit for your business and a lead worth pursuing. Read on for research tips to help you qualify your sample requests so you're set you up for compatible partnerships in the future.
Get to Know the Retailer: Their Customers and Retail Experience
When researching a retailer for the first time, you'll want to learn about their customer base and the retail experience they provide to determine whether the retailer is a reflection of your brand and a shopping destination for your target customers.
What is it like for their customers shopping in-store or online? What product assortment do they offer? What initiatives are taken to improve the shopping experience (i.e., special displays, in-store demos, promotions, etc.)? If you are unable to explore the store in person, take advantage of resources on the web, including visiting the retailer's website, social media channels, and review sites for additional information.
Get to Know the Retailer: Values
Connecting with a retailer that aligns with your brand's mission and values is a win for both sides. Not only does it bolster their connection to your products, but it also presents alignment in culture and customers.
Does the retailer showcase any product standards? How transparent and communicative are they with their customer community? Do they align with any outside organizations or causes? If you find any similarities in values, make a note of it to bring up later in your conversation with the buyer.
Match made?
Based on your findings, do you think your products would fit in their store? Would their customers buy your products? If you answered "yes" to both of these questions, continue on with your qualification. If you answered "no" to one or both of these questions, that's okay! Remember, not every retailer is going to be a fit and you should not feel obligated to send out samples to every buyer that requests one. We only recommend letting the buyer know if you won't be sending any samples. See below for an example message on how to close out your conversation with a positive tone.
"Thank you so much for your interest in (Brand Name). At this time, (give reason for not sending samples). If that changes in the future, we will reach back out to see if you are still interested."
Get to Know the Buyer: Background
Now that you know there is alignment between the retailer and your brand, it's time to get to know the buyer that reached out to you.
As a quick refresher, buyers from vetted retailers come to RangeMe to discover products, often frequenting the platform during their category review periods. After you receive a sample request, RangeMe presents the buyer's name, the retailer they work for, and their title in the top right corner of the sample request message.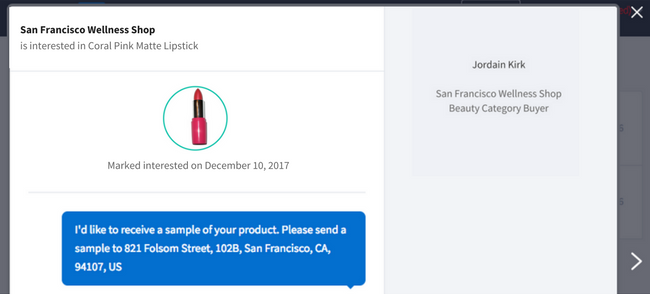 Leverage this information to learn more about the buyer.
Get to Know the Buyer: Sample Preferences
Each buyer has their own set of preferences when it comes to samples. To find this out, you may want to ask a few questions to verify details before sending off your samples. Additionally, asking a question or two will help gauge how interested the buyer is in your product. Here are two examples of questions you can ask:
Do you have any specific packaging instructions?

What's the best email address to use for following up?
Keep in mind, buyers are extremely busy professionals, so timeliness in your response is important. Make sure to research retailers and respond to buyer sample requests professionally and promptly.
Sample time!
Now that you've completed your research and have a better understanding of how your brand and the retailer could work together, it's time to wow them with your products by sending out samples!
Click here to continue to Section 2: How to Send a Sample. 
------------------------
This article is part of the Product Samples Guide.