Amazing product? Check. Signed up for RangeMe? Check. Now it's time to list your brand information, but you're not quite sure what retail buyers are looking for.
You've come to the right place.
In this article, you'll see a real, top-notch brand profile that's currently live on the RangeMe marketplace to show you just what buyers see when they're viewing products. (Thanks to G Mommas — a fantastic cookie maker out of Alabama — for letting us make an example of their profile!)
Fields, fields, fields
Remember, as a supplier, every field available to your profile is used as a search filter for the buyers on our site. This means that everything from price to location and more are used by buyers to sort through the thousands of products on our platform in order to provide them the best possible match, or "product match", for buyers.
On your brand page, the very first fields you'll need to include are a logo and cover image. Completing these two fields will give your brand a boost to buyers discovering products by brand. If you're struggling to find a good cover image, borrow one from one of your social media profiles. 
First things first
To make a great first impression, it's best to understand how a buyer first sees your product on our site. The image on the right shows exactly what a buyer sees when discovering products from their dashboard when searching by brands (we blocked out margin and MSRP in this example). The left shows what a buyer sees when searching for products.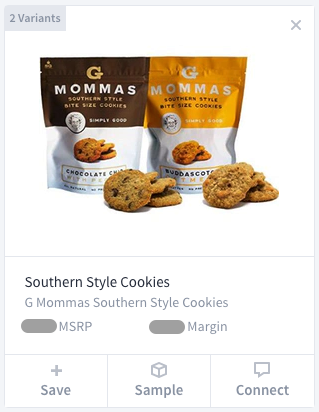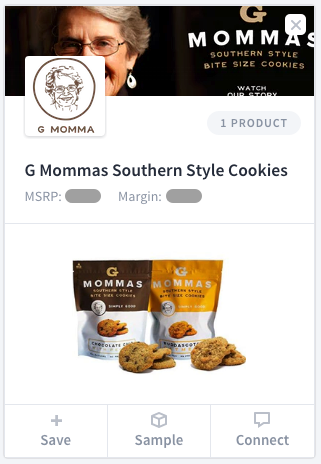 What you'll notice is that your product's picture is front and center. This really is your first impression with buyers. What the G Mommas example does right clearly shows a quality package that consumers would see in stores. It also helps that it's on a white background and taken by a professional photographer.
Here you also see the cover image and logo playing a big part of a buyer's first impression.
The next thing buyers will see is MSRP (manufacturer's suggested retail price) and margin (the difference between your product's cost to retailers and MSRP). These numbers are hugely important to retail buyers — it's where they're going to make money for their businesses after all.
From their dashboard a buyer can save, sample, connect or dismiss (the "x" in the top right) your profile. 
Brand Details
Listing your profile doesn't take a lot of time, and the level of detail you include is completely up to you. Here's how G Momma's brand profile looks to a buyer. Adding elements like your cover image, logo, and your social media can help show a buyer that you already have a brand and following that sets you apart from other brands.
Hopping over to the "profile" tab you can add your brand's story and a video. See G Mommas' great brand video here.
Product Details
You can always see exactly how buyers will see your product by clicking the preview button as you're creating your product, but here's a full example of a completed product here. If your profile has an attractive image and is a high percentage match, a buyer can click on your product to get to the meat of your posting.
Working your way down the posting you can see the fields that matter to buyers. Here are a couple examples of critical fields:
Currently Sold At — If you're not in a big national or regional store, type "Independent Retailers" to let buyers know where you're currently sold.
Approvals and Certifications — It's particularly important to include for natural and specialty items, buyers and consumers alike look for all natural, organic, and more of these labels.
One of the most important sections of the product form would be the ingredients section. If your product falls into food, beverage, beauty, household and other similar categories, the importance of including your product's ingredients can't be understated. Particularly when working with retailers that go to extremes to ensure only quality products and ingredients make their way into its stores, the more insight you can give buyers into your product the better.
In this perfectly executed supplier listing, you can see exactly how a completed profile tells the full story of your brand. Completing your profile will help take the guesswork out of new product discovery for buyers and set yourself up for long-term success on RangeMe.