There are several benefits to sharing your RangeMe profile with target buyers that are on and off of the RangeMe platform. Sharing your brand profile with buyers allows you to improve your sales strategy and track buyer activity of these shares and profile visits. You can share your RangeMe profile to communicate exciting updates, follow up after buyer meetings or trade shows, and while sending every-day emails to your contact list.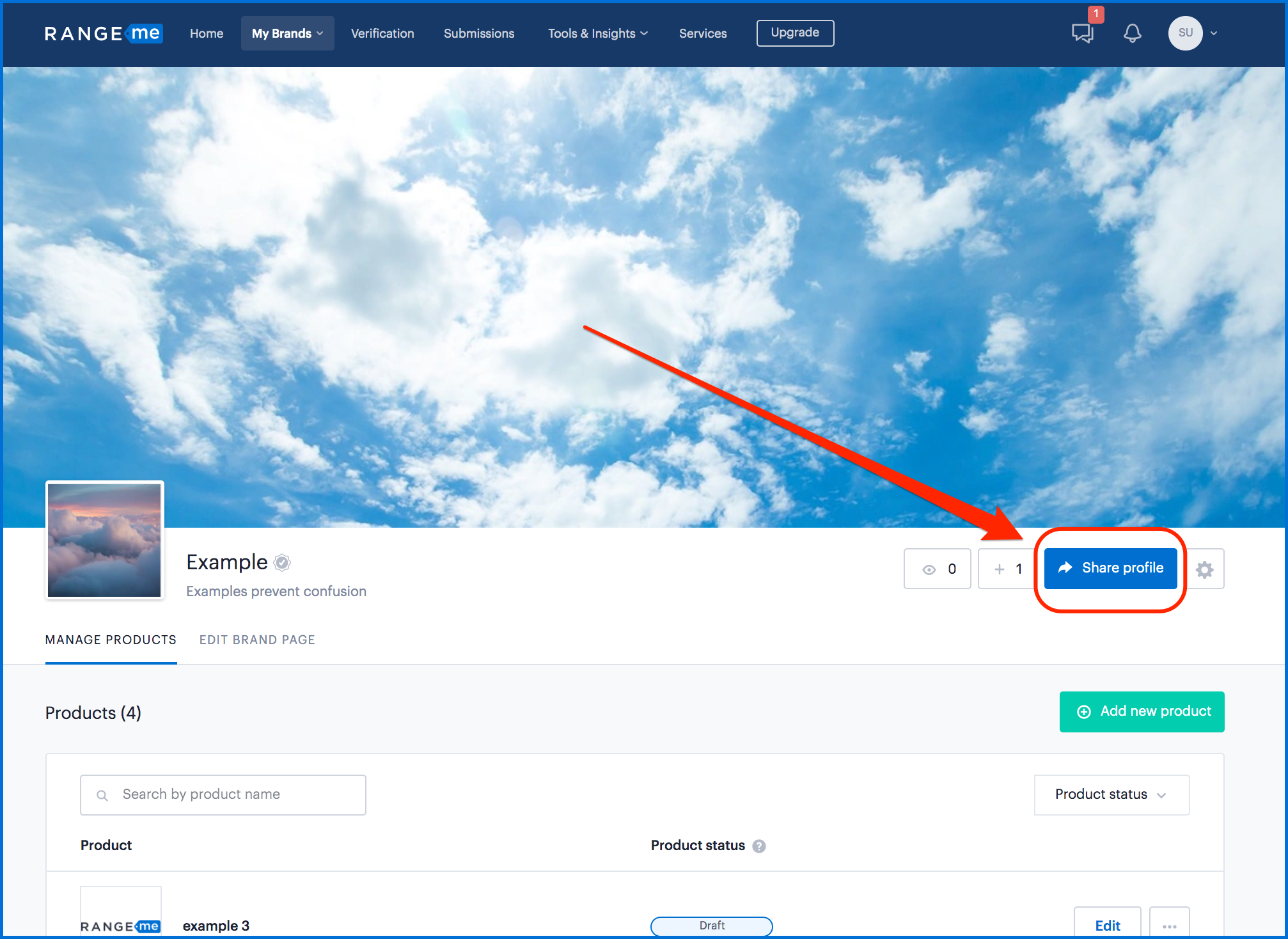 As a brand, think about how many emails you and/or your team sends in one day to prospective buyers. According to this Email Statistics Report from 2018, the average employee sends out 38 emails every day. Including a link to your RangeMe profile is another effective way to share your brand and drive more traffic to your brand page. Regardless if your contacts are currently on RangeMe, they can still review your brand page and product information by easily clicking the link in your email signature and entering their own email address.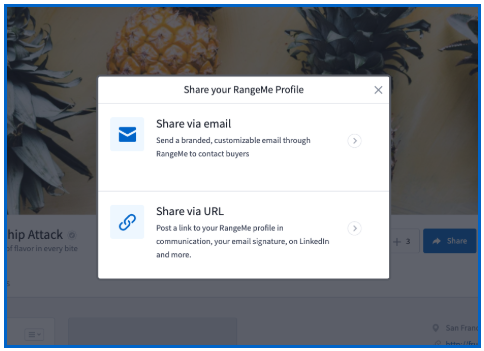 You will need to create a unique URL to add into your email signature to start sharing your brand profile with buyers through your email signature. Simply click the "Share" button and select the "Share via URL" to generate your unique brand profile link.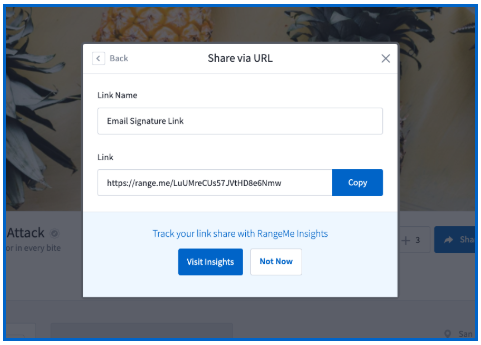 Once you follow these steps to creating a URL you will be able to copy the link and add it to your email signature. Give the link a unique title, such as "Email Signature Link", to reference later when you are tracking link clicks.
Right now, your current email signature might contain links to your website, social media, and even your LinkedIn profile. You can add your RangeMe profile link to this section of your email signature. Type one of the following phrases into your email signature:
View my digital catalog

[Brand Name]'s RangeMe Profile

[Brand Name]'s Digital Catalog

View my RangeMe Profile

View my products

View my offering

View [Brand Name]'s Offering
Check out the example below of what your email signature might look like after adding in your RangeMe profile as your company's digital catalog.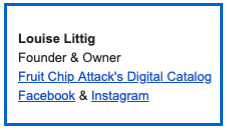 Then, hyperlink this phrase with the URL you created and copied from the instructions listed above. Hyperlink the phrase by using your cursor to highlight the phrase "RangeMe Profile", while the text is highlighted press command + K on your keyboard. You will see a modal appear where you will paste your RangeMe link into.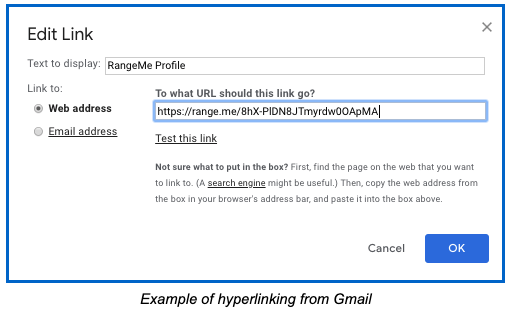 Once your RangeMe profile link is added to your email signature you will be able to view insights of the URLs performance. You will be able to track if the buyers you communicate with are clicking the link to your profile, where they are spending the most time on your profile, and what products are being most viewed.
The example below shows that the email signature link used by this brand has had more visits than the links used for two trade show follow-ups.

Remember, your email signature is just one place where you can include a link to your RangeMe profile. You should link to your profile wherever you communicate with buyers. If you are reaching out to buyers via Instagram direct message, Facebook, or LinkedIn, include a link to your profile so the buyers can easily review your product offering!
RangeMe Tip: Prior to attending a trade show, make sure to add your RangeMe profile to your email signature. This will allow buyer you follow up with to review your RangeMe profile and business details as well as track the buyers who
Related to Benefits of Adding Your RangeMe Profile to Your Email Signature: