Select retailers have chosen to share their category review schedules with RangeMe, which can help you strategically time your submissions. Category review schedules are currently only available for Premium suppliers.
Premium suppliers receive Category review alerts for upcoming review schedules every first Tuesday of the month.
Note: The reviews are given out about two months in advance as these reviews are subject to change per the retailer. You can also see category review information at any point from your Submissions page.
To view a retailer's review schedule, click on the "Sales & Marketing" tab at the top of your page and select "Category reviews".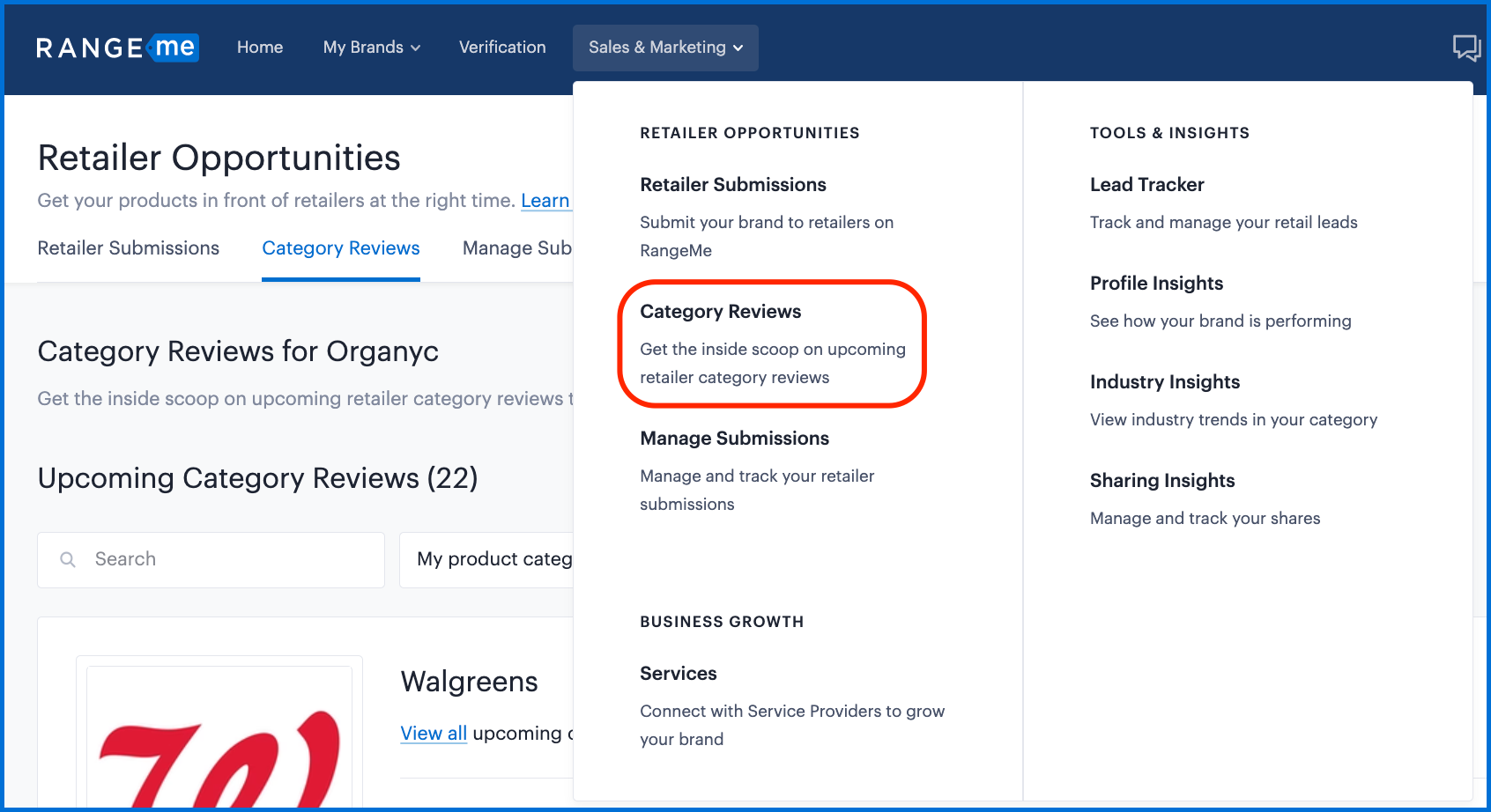 Once on the Category review page, you can see all the retailers with current and upcoming reviews and their dates. You can filter the reviews by your product categories or all categories.
If you find a category review you would like to track for the future, you can add them to your Lead tracker and also add the review to your calendar. By clicking "Add to calendar", you can select your email type.

Note: You can also find reviews under your Submissions page, find the retailer that interests you, and select the "Learn More" option.
Once you click on "Learn More", you will see 2 tabs. Select "Upcoming Reviews" to view any current and upcoming category reviews for that retailer.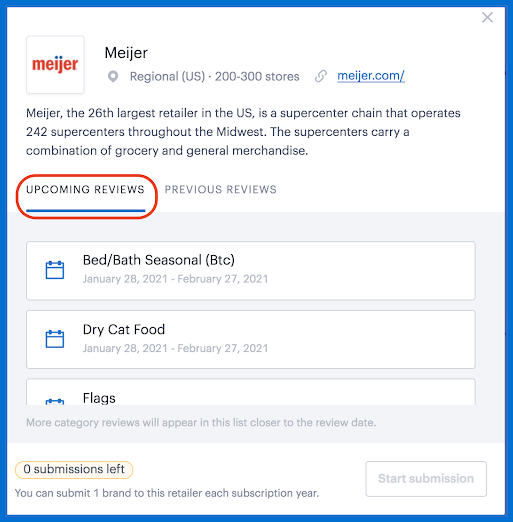 Select "Previous Reviews" to view any past Category reviews for that retailer.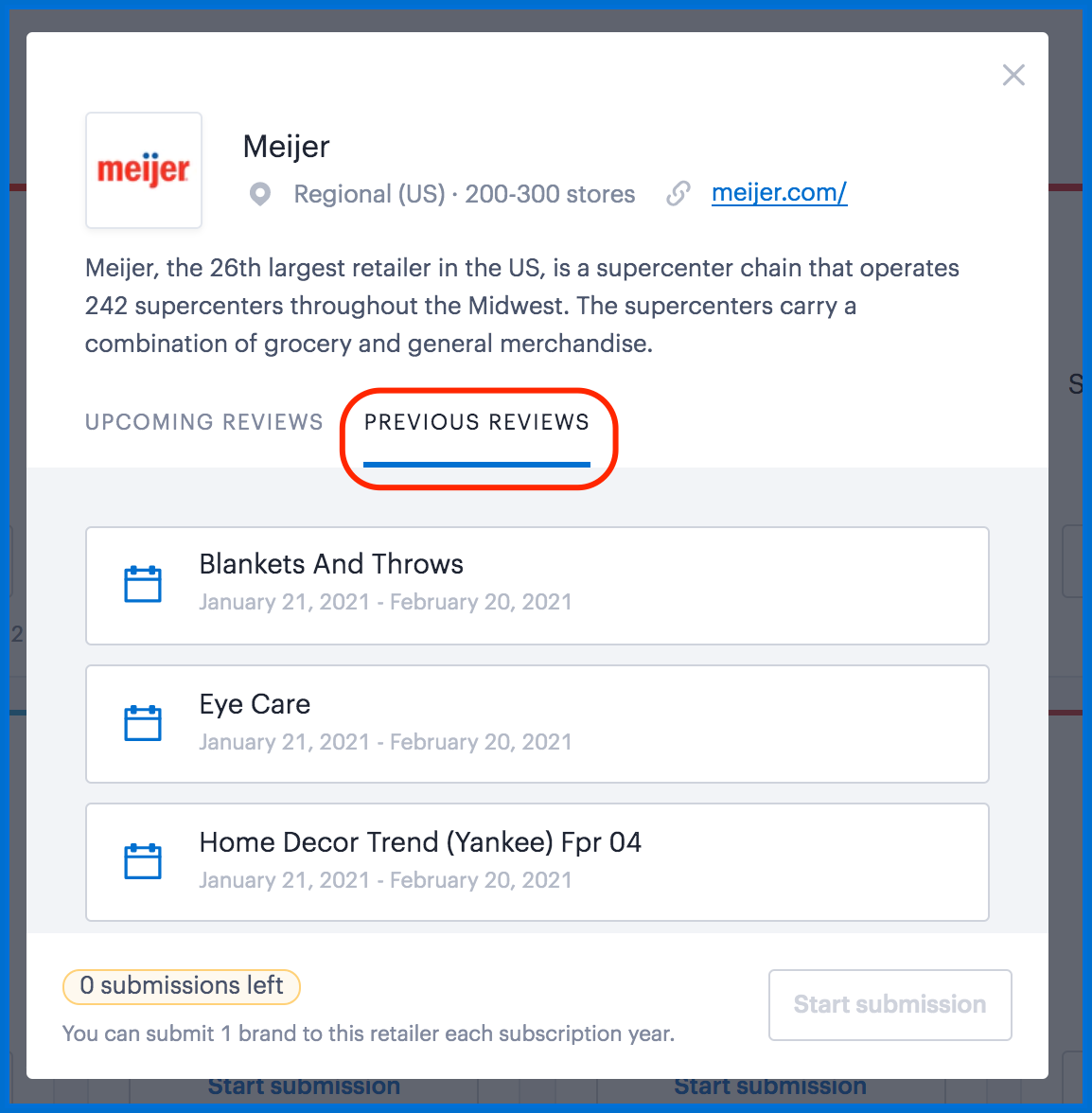 Some retailers have shared with RangeMe that they perform ongoing Category reviews. You will see this information when you click on the review schedule for a brand that performs ongoing reviews.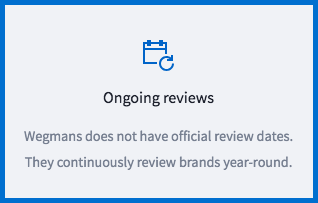 Some retailers have opted to not share a review for a variety of reasons. A buyer's review schedule is incredibly confidential information, so there are a few of them who have opted not to share this information with anyone. If a buyer doesn't have this listed, it could also be possible that they simply don't follow a review schedule of any kind.
The RangeMe team is actively working on collecting more retailers' review schedules to help you be better prepared to submit your brand at the right times.