Submitting your brand at the right time will maximize your visibility with buyers during Key review periods as they are actively looking for products in those categories during this time.
Retailers with Category Reviews
The most important factor to consider when submitting to a retailer is their Category review schedule. Select retailers have shared their Category review schedules with RangeMe, and these are accessible to Premium suppliers on the Submissions page.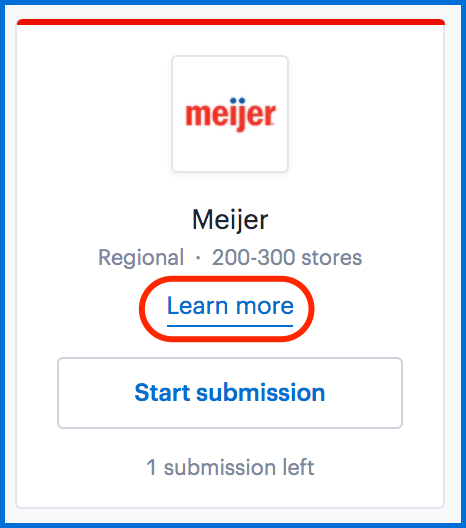 As part of the Premium Subscription, Premium Suppliers receive an email every first Tuesday of the month to inform them of any new Category Reviews that have been published for our retailers. Timing a submission is key so you want to wait until that review period for any retailer who operates with review schedules, that way buyers will be more likely to express interest in your products because they are reviewing them at a relevant time. If a retailer has a category review period, do not submit to them outside of that period or your submission may be overlooked.
Retailers with ongoing reviews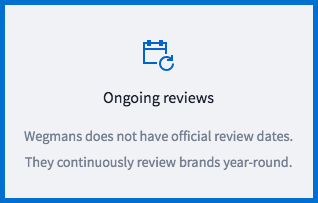 For retailers who perform ongoing reviews, or who have not shared their review schedules, you can still consider certain timing factors when submitting to them. For example, if there is an upcoming trade show in your Category, you want to submit your brand in the weeks leading up to the trade show for any curious buyers who might want to take a look at what brands will be attending said tradeshow. Remember, a submission is active for one month from the submitted date.
Another tool that can help you strategically time your submissions to retailers with ongoing reviews is Profile Insights. Review your "Recent Views" section to get a better sense of which retailers are actively using RangeMe and browsing within your category. If you see frequent, recurring activity from a specific retailer, this could also be a good time to submit because your Category is likely on their radar.
Also, consider factors about your brand when submitting to a retailer with ongoing reviews. If you know you are making changes to your brand — releasing updated packaging, adding exciting new products to your line — you might want to wait to submit until after these changes are made, so you can ensure your brand is represented correctly. See our article on how to prepare your brand for submissions for more tips to get your profile ready.
With these best practices in mind, you will be able to strategically time your submissions to boost your visibility with buyers!