One of the most important components of your submission is the custom message you can include when submitting to a retailer.
Message length and tone
While including a message is optional when submitting your brand, it's highly recommended to include a message with your submission. This is your opportunity to convey compelling information about your brand that can capture a buyer's attention. As with all your communications with retailers, the tone of your message should be professional, friendly, and polite.
Your message should be as concise and straightforward as possible. Since buyers are reviewing multiple submissions, you want to keep your message short and to the point with only the most relevant information. Per the buyer's requests, your submissions' message is limited to 500 characters.
It can be tempting to include your brand story or "elevator pitch" in this message, but in the context of a submission, you actually want to avoid sharing this kind of information. Instead, let your RangeMe profile provide that in-depth background about your brand, and use your submission message to focus on the most relevant information that buyers want to see when reviewing products.
Message content
For your message, you want to include a quick introduction of yourself and your brand — quick as in 1-2 sentences. A good format is to include your name, your role, and a general statement about the products your brand offers.
You then want to list a few brief points that demonstrate your brand's existing success and how your products will provide value to retailers. Your ultimate goal with this short message is to show how your products will contribute to growth in your category for that retailer.
You can do this in several ways:
Sales performance and distribution
Include compelling numerical data about your current distribution and your sales performance — such as the number of stores you are carried in and the sell-through rate of your products — to demonstrate to buyers that you are already performing well at other retailers and give your brand credibility.
Press
If your brand or products have been featured in a press release or any type of media, sharing that with buyers can give your brand credibility and demonstrate popularity with consumers. Share the name of the publication you were featured in, especially if it is notable in your industry.
MOQ and lead time
If you offer a lower MOQ (minimum order quantity), be sure to mention that in your message, as buyers are often looking for products with lower MOQs so they aren't investing a lot of money upfront to test products.
If you have a quick lead time and are able to ship your products right away, be sure to call that out in your message, because buyers may be looking to fill inventory as quickly as possible, and this will help your product stand out.
Key differentiators
Tell buyers what makes your products unique and why your product will appeal to their customers. Buyers may be looking for something new and innovative, so if your product fits that description, be sure to call attention to that!
Sample message
This sample submission message includes various factors mentioned above:
a short introduction

key differentiators

statistics on distribution and sales

call out to MOQ and lead time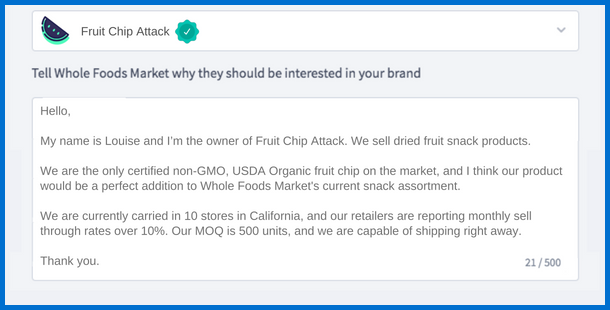 If you follow these best practices, you will be able to craft a concise and compelling submission message that includes the most relevant information that buyers are looking for when reviewing your submissions.