The brand overview includes your brand details that can be viewed on the far right side of your brand page under both the products and profile tabs.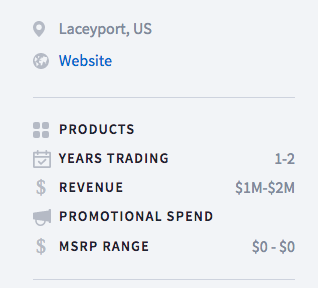 Location: is pulled from your company profile details and can be edited under Settings > Company.
Website: can be edited directly within your brand overview by clicking "Website," this field will automatically be pulled from the website entered within your product profiles. 
Note: If you have entered more than one website under your product profiles this field will populate the website that has been entered the most. 
Products: the number of products listed here is calculated based on the number of products that have been approved and published within your brand. 
Years Trading & Revenue: are both pulled from the details you have entered in your company profile and can be edited under Settings > Company.
Promotional Spend: this number is calculated as the sum of promotional spend entered for each of your product profiles listed within your brand. Promotional spending can be found with the product profile form.
MSRP Rage: this is the range of MSRP for all published products within your brand. 
Social Media- Connect your Facebook, Twitter, Pinterest and Instagram to your brand page for buyers to view. In order to link your social media pages select "Add" and entering the URL in the field provided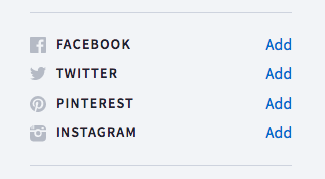 This will create a link to your social media pages and display a widget with your social activity. (Please note that at this time our platform is unable to produce a widget for Instagram.)