When you log into your RangeMe buyer account, you will be taken to the Browse section of your RangeMe dashboard

Within this Browse tab, you will see a list of products based on the categories you are subscribed to, and a set of filters you can leverage to refine your search results. The filters include a wide range of attributes which will help you identify the best products for your needs.
1. Filter by category
You can narrow down the categories you are subscribed to by selecting which categories, in particular, you want to a search for a product in. In this example, the buyer is subscribed to the Food category, and has the option to filter down within any category under "Food".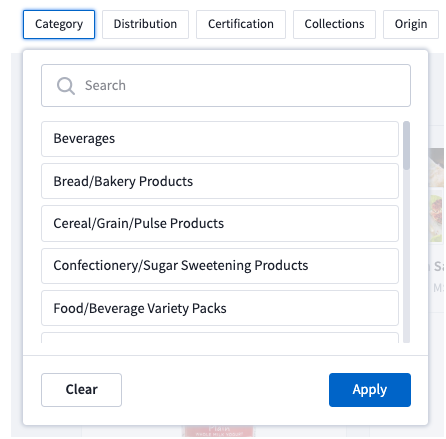 If there is another category you are looking for but is not within your currently subscribed categories, you can find a link to update your categories at the bottom of this box.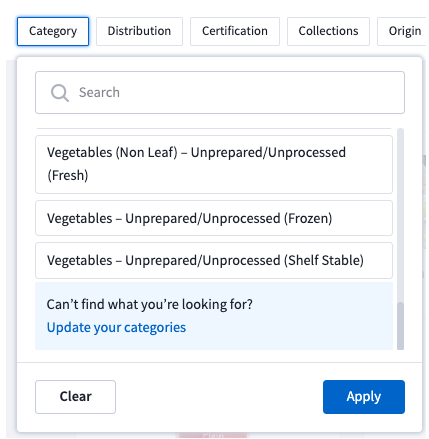 2. Filter by distribution
Within the distribution filter, there are 3 additional fields that can be selected.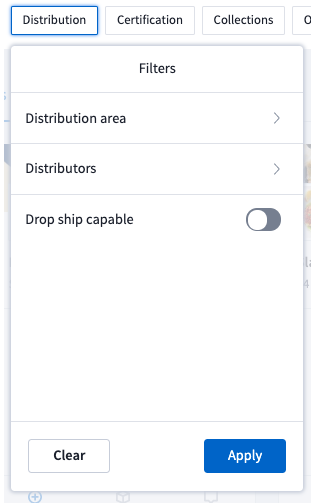 The Distribution area will allow you to select products that can be distributed within the following 3 areas: Global, US (National), and State.

The second option is the Distributors tab where you can filter products/brands that currently work with a particular distributor.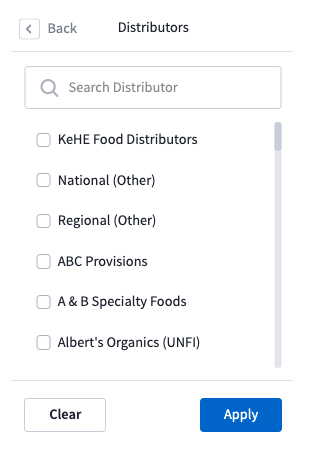 The Dropship capable option is a simple slider that you can toggle on. It will turn green if the filter is applied. This will filter for brands that have reported to offer drop shipping as an option.

3. Filtering by certification
In the Certification filter, you are able to narrow your results to only show brands and products if they have reported a specific certification. Simply search for and select the certification(s) you are interested in, and click Apply.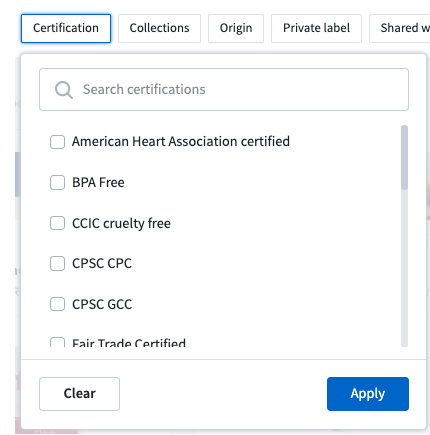 4. Filter by Collections
Collections products and brands that are organized for you based on what is trending in retail. Leverage Collections to view products recommended for you based on your past activity, brands that are currently trending on Instagram, products that are outperforming the rest of their category sales, and more. Simply select a Collection from the dropdown to view the brands and products in that Collection.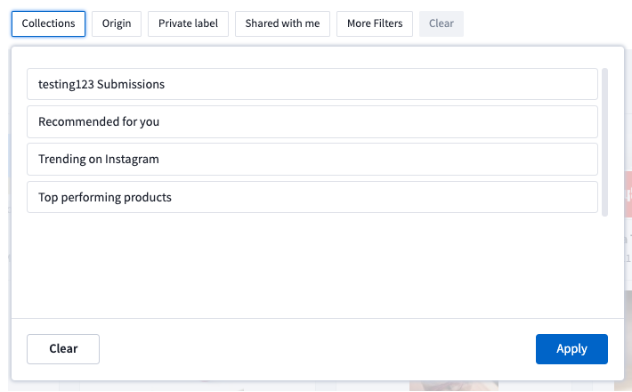 5. Filter by Origin
Origin is used to select where the product was Manufactured. Search and select which origin country and/or state that meets your needs.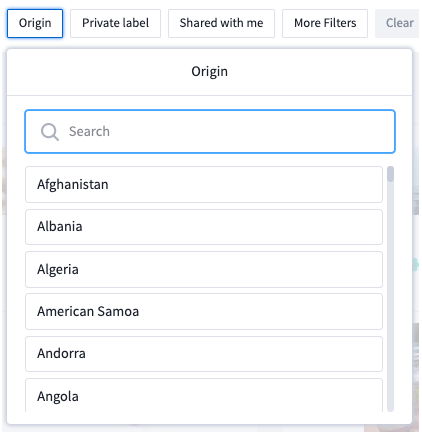 6. Filter by Private Label
The Private Label section is simply used to filter products that have selected that they're available for Private Label.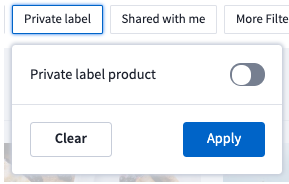 7. Filter by Shared with me
If your colleagues have shared brands or products with you, you can view these by selecting Shared with me.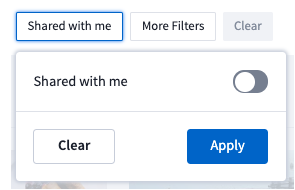 8. More Filters
A variety of other filters can be found within filters, depending on your screen size this may include some of the filters above as well.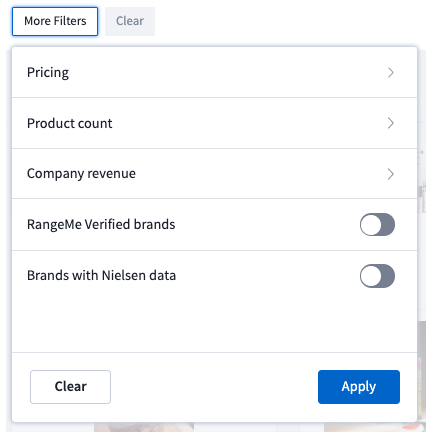 Within the pricing section, you can filter product by setting a minimum and maximum range for Margin, MSRP, and Cost. Only products within the specified range will be shown in a search.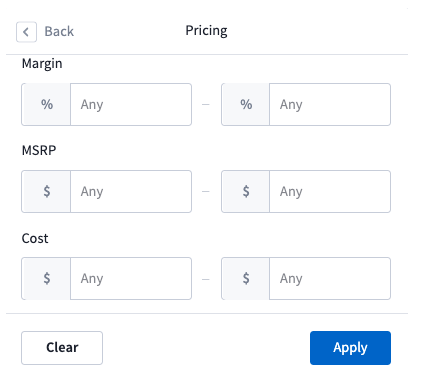 The Product Count filter will set a range where only brands with the number of products specified in the filter will apply.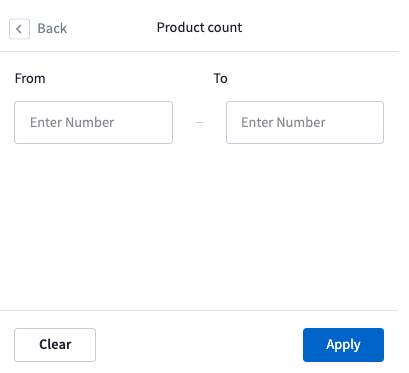 Company revenue will allow you to filter for brands who meet the requirement specified within this section. At the bottom of the list, there is a box to include companies who have preferred not to share this information.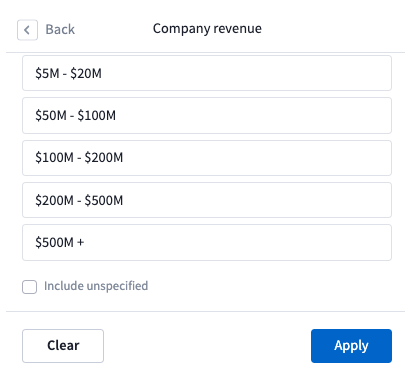 That last two fields in this section (RangeMe Verified brands & Brands with Nielsen data) are simple filters you can click and apply.
9. Saving a search
Never miss a new product you're looking for. You can save your search and filter criteria you have set d by clicking "Save Search" to the right of your filters! This will prompt a pop-up to save your search where you can give your search a name, select if you'd like notification for new products that match this search, and which day you'd like them to be sent to your inbox.
Your Saved Searches will appear next time you click into the search bar. This allows you to easily stay on top of multiple search initiatives and receive updates any time a new product that meets your needs comes to market.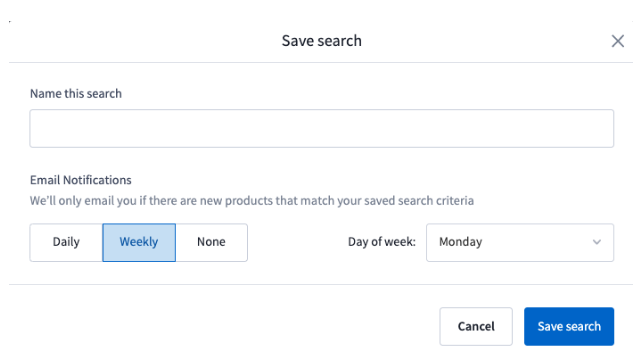 If you are no longer interested in following a particular Saved Search you can remove it at any time in your Settings under Saved Searches.
10. Clearing a search
To clear a search, simply click the gray "Clear" button to the right of your filters to completely reset any filters applied.