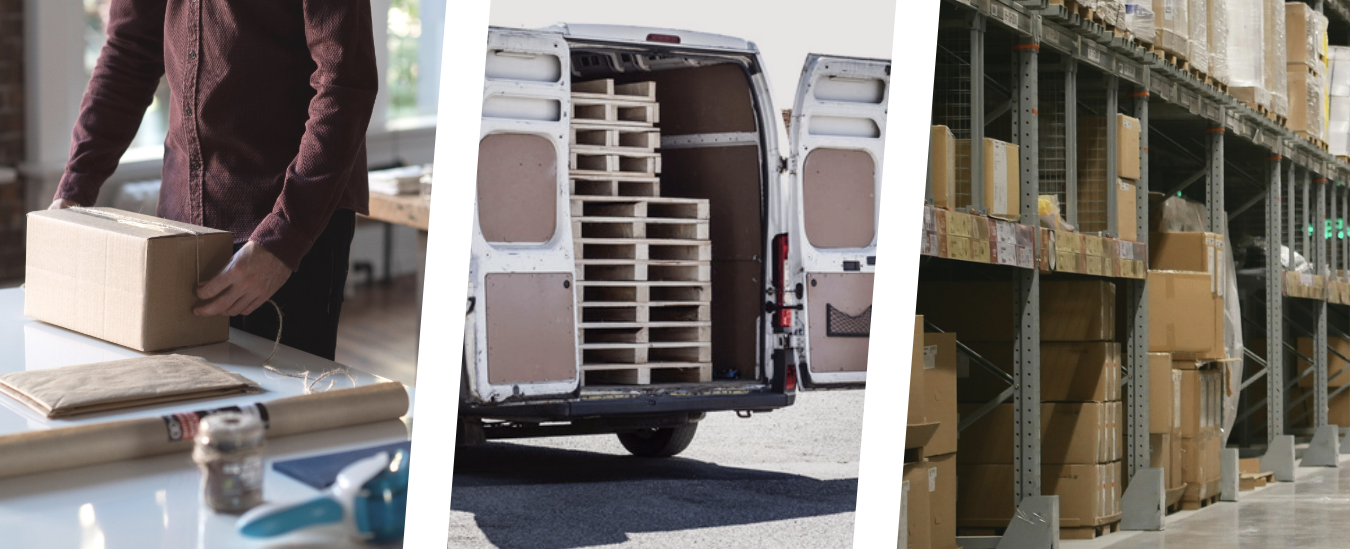 You have a stellar product. You have the necessary insurance, your barcodes are compliant, your packaging looks great—you're ready for retail. So what happens when a customer or retailer places an order for your product? That's where logistics, shipping, and order fulfillment come in.
Having a strategy for getting your products where they need to go is more important than ever in the internet age. Seamless shipping helps you build brand loyalty and trust among customers who order your products online, and demonstrates your brand's credibility to retailers who are looking to stock your products.
Logistics vs. Shipping - What's the Difference?
While these terms are often used interchangeably, there are some key differences between them. Logistics encompasses many complex aspects of your supply chain management, of which shipping is only one component. In addition to shipping, logistics refers to the management of your materials, handling, picking, packaging, warehousing, and more.
Shipping, in its most basic sense, is the actual act of transporting your products to their end customer, be it consumer, distributor, or retailer. Order fulfillment refers to the specific steps and solutions you can choose when receiving, processing, and delivering orders.
Logistics, shipping, and order fulfillment are all key components of your supply chain management that will determine how your product gets successfully from manufacturing through to its endpoint—whether that endpoint is at a customer's door, or on a retailer's shelf.
Common Shipping Solutions
Shipping and order fulfillment can be a complex process, and there are many options you can choose based on your business structure and your brand's needs. When evaluating your shipping and fulfillment solutions, you'll want to consider a variety of factors, including your shipping start and end locations; customer or retailer shipping preferences; your average order value (AOV); your big-picture business goals; and your specific product qualities like weight, margins, and any restrictions.
While the solution you choose will ultimately be determined by your specific business needs, here are some of the most common shipping strategies to consider:
This is a pretty self-explanatory strategy, and likely one that many businesses rely on in their early stages. It means that you are doing all of the shipping for your brand from home (or wherever your business is based), handwriting or printing your own labels, and manually taking your packages to the post office or having them picked up by a mail courier.
This option is best suited to very small businesses with lower order rates and minimal business capacity, and generally brands that aren't working with a distributor or wholesaler. A benefit of do-it-yourself shipping is that it allows you to control all aspects of your product picking, shipping, and delivery. However, because this method requires a lot of organization, manual work, and space, it will likely become overwhelming and simply not feasible to continue a do-it-yourself approach to order fulfillment as your business grows and your order quantities increase.
Drop shipping is a method of order fulfillment where a manufacturer, wholesaler, distributor, or retailer doesn't actually keep the products they sell in stock. Instead, any orders placed are shipped directly from your drop shipping partner on your brand's behalf. When an order is placed through you (or through a retailer), you then place a duplicate order with a third party that actually stocks the product. The order is then shipped directly to the consumer from that third party. Drop shipping means that you never actually purchase or hold any inventory, as it's all coordinated through the drop shipper.
Drop shipping is a good option for businesses who are not ready to make a large investment in stocking inventory and managing the logistics of a warehousing space. Drop shipping is most commonly used by wholesalers who stock bulk inventory and by retailers who do not want to invest capital in stocking inventory. However, as a product manufacturer, you can also operate as your own drop shipper, meaning that you have bulk inventory of your product and are willing to ship direct-to-consumer when an order is placed through a retailer. 
Fulfillment warehousing entails sending your inventory in bulk to a third party fulfillment center, who then stores the product and manages future shipments. When a customer or retailer places an order for your product, you coordinate with the fulfillment warehouse and they will pack and ship the products to the end customer.
Warehousing is a good option for large or rapidly growing businesses with increasing sales and order quantities, and substantial cash flow. Outsourcing to a third party warehousing logistics company means that you don't have to employ your own staff to manage orders and shipping, you don't have to worry about all of the organization and planning that goes into shipping logistics, and you don't need to have the space required to store, pick, and ship your orders.
Read more about warehousing solutions here.
As you can see, logistics, shipping, and order fulfillment are complex but extremely important components of your brand's success, and there are a lot of options for you to consider when choosing the best solution for your business. If you need assistance with any aspect of your logistics, shipping, and order fulfillment, get a quote from one of the many qualified shipping service providers on RangeMe Services!