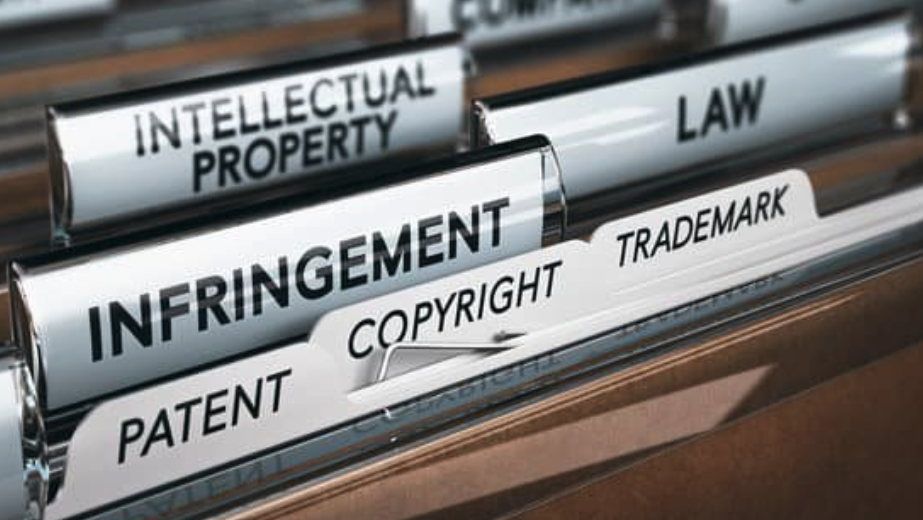 Intellectual property is something that results from your creativity and is something that you can legally protect. Some of the most widely protected intellectual property categories include patents, copyrights, and trademarks.
Patents
A patent is a right granted to an inventor by a government entity that enables the inventor to exclude others from making, selling, or using the invention for a period of time. In the United States, a patent gives a patent holder exclusive rights for 20 years from the date of filing a patent application. A patent may be a utility patent, a design patent, or a plant patent.
A utility patent is for a machine, a device, a chemical composition, food combinations, a process, software, or other things that have some function, a design patent is for how something looks, and a plant patent is for new and distinct plant varieties. An example of a food patent is shown in the image below. The pictured patent is for the storage of peanut butter and jelly in the same container.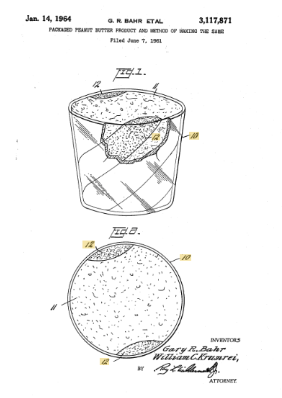 In the food industry, patents may be obtained for improvements to processes and products, such as things that extend shelf life, mass production enhancements, shape alterations, new combinations, flavor, texture, or health improvements, and things that make cooking easier.
After applying for a patent, you should list on your product that you have a patent-pending, and after being granted a patent, you should label your product with your patent number. A patent can protect your product and increase the value of your company. If you fail to patent something that you want to be protected, other people can copy your invention and you cannot stop them.
Copyrights
A copyright is an exclusive right given to the creator of a product to make and sell copies of their work. In the United States, copyright is generally valid for the life of the creator plus 70 years. Copyrights are commonly obtained for music, graphics, written works, creative writing, blogs, art, logos, websites, and software code. As the creator, you own a common law copyright for what you created. You can use the symbol © to indicate that you own the copyright. However, to enforce your copyright, you need to register the copyright with a government entity, such as the United States government. This can be done for a relatively low cost and gives you greater rights than if your copyright is unregistered.
Trademarks
A trademark is something used to identify a brand or a source of goods or services. Some examples of famous trademarks are shown below. A trademark can be used by anyone without registering the trademark, but your rights may be limited and could be found to infringe on another's trademark. Without registration, the symbol "TM" can be used to indicate the assertion that a word, image, or sign is being used as your trademark. Registration of your trademark in the United States enables your trademark to be enforced. After you get a trademark registration, the symbol ® is used to show that you have a registered trademark. Trademark registration helps secure your brand from other companies and individuals and helps increase the goodwill of your brand.
--------------------
About the Author
| | | |
| --- | --- | --- |
| | | With two decades of experience, Kunzler Bean & Adamson helps customers with intellectual property, corporate, and litigation matters. We've secured and defended patents for some of the world's leading brands. We've helped our clients resolve the disputes critical to their businesses, large, and small. We've helped clients realize more than a billion dollars in economic value. We've also never lost sight of how important "&" is. |